Now that you've read about my Colors of Flags Challenge makes, check out Episode #2 of Pattern Hacker.  You can see my full process for this DIY One Shoulder Ruffle Dress.  I'm slowly working the kinks out of my videos and looking forward to more of these types of videos.  I've really enjoyed producing all of these for everyone!  The teacher in me is jumping around!
If you're looking to make your own version of this dress and you don't have the two Burdastyle patterns I used (5-2010-130, and 2-2013-109), here's some ideas: Substitute any pencil skirt pattern made with stretch woven fabrics for the bottom.
For the top part OOP Simplicity 5508 would be a great substitute.  All it needs is a strap and the ruffle!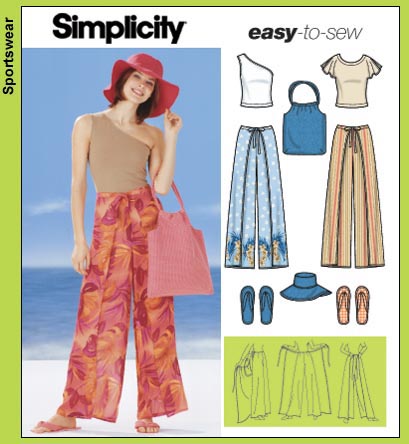 Vogue 1452 could also be a good substitute for the top part.  Actually, Vogue 1452 is a great substitute because the pattern has a strap, and the sloping neckline already goes all the way around the front and back.  All you'd have to do is add the neck ruffle and possibly change the construction for the strap.
Let me know what kinds of pattern hacks are the most interesting to you!
Now go watch some fireworks!
Elizabeth Farr is the writer behind the Elizabeth Made This blog where she shares helpful sewing tips, step by step sewing tutorials and videos to help you explore your creativity through sewing.  She has written sewing Eguides and patterns, been a featured teacher at Rebecca Page's Sewing Summit and Jennifer Maker's Holiday Maker Fest and her work has appeared in Seamwork and Altered Couture magazines.  She also created a line of refashioned garments for SEWN Denver.  When her sewing machine isn't humming, she's playing and teaching violin, and hanging around a good strategic board game with her husband and 4 kids.