I'm not much of a beachgoer. Blame it on not living anywhere near a beach. But also, I can blame it on my very sunburn prone skin.  Summer is often when I either hide from the sun or resign myself to painting myself with enough sunscreen to pass for a layer of primer on a wall.  And yet, summer styles are so fun, and when I came across this vintage McCalls pattern from 1982, I couldn't pass it up.  Paired with buttery rayon challis from LA Finch Fabrics, this rayon challis culottes beach set is my new favorite summer look.  Pass the sunscreen please  (or the aloe)!
Rayon Challis Culottes Beach Set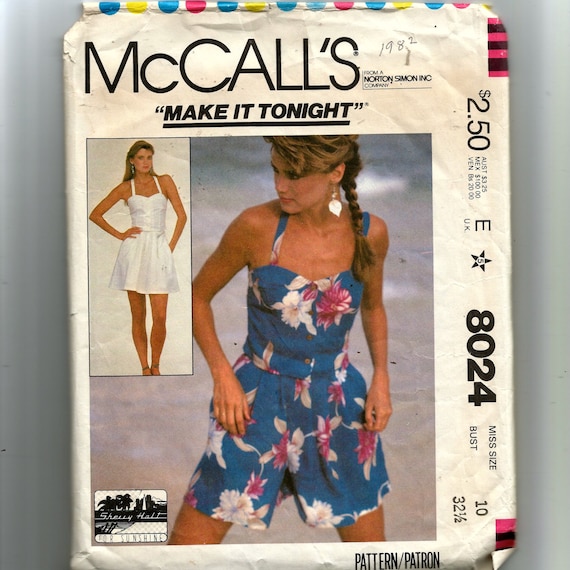 My War on Culottes
I've never successfully made culottes.  It's not for lack of trying.  I had a pair of knit culottes many years ago that I'd wear in the summer.  They were so easy to wear and comfy when the mercury was on the rise.  When I started sewing, I tried to recreate those knit culottes with this Burdastyle tutorial.  Unfortunately, these never stayed on my hips.  Another time, I tried to draft my own.  I was short on fabric though, so the culottes didn't have a good amount of hem sweep, and I made the elastic waist a little too tight.  I dismissed the style completely!
[smbtoolbar]
Then Helen's Closet started popping up with all of her gorgeous versions of her Winslow Culottes.  I watched Rachel try and then succeed in spades with them and decided that it was time for me to try again.
So many pleats!
I'm discovering as I look through culotte patterns that there's many different variations in culottes.  All of them produce that characteristic volume at the hem that makes these pants "hang like a skirt."  Some use a series of pleats, some inverted pleats, some box pleats.  My knit culottes that I used to wear had no pleats at all.  The volume in them was created by splitting the original shorts pattern in intervals and adding wedges of width into the hem.
This particular pattern features 6 pleats across both the front and the back.  In the soft rayon challis, the pleats hang so beautifully.  After a muslin, I lengthened the culottes by an inch so that they'd hit me around my knee.  It wasn't totally necessary to do this, but I like my skirts to hit around my knee, so ditto for culottes.
Invisible zip in a pocket
The pattern has extensions on the pocket that you fold back on themselves to finish on one side that joins a buttoned opening on the waistband.  I've seen this kind of finish on a pair of vintage pajamas I made (my first actual vintage pattern, and it was a dud), and I hated the breezy side opening.  Instead, I cut off the extensions on the left side and put in an invisible zipper.  I sewed in the zip wrong twice before I watched this video.  When finished, the left pocket looked odd to me, but I have a pair of lace rtw shorts that have pockets made the exact same way.
The not-romper top
I originally fell for this pattern because I think the combo of the top plus the culottes has a romper look.  I know rompers are currently super trendy, but I'm a little shy with the style.  The simplicity of being able to use the bathroom without getting undressed is a big plus.
[email-subscribers namefield="YES" desc="" group="Public"]
After a quick muslin, I widened the straps by sewing the seam allowances at 3/8″ vs. 5/8″ and I lengthened the top by 3/4″.  The culottes are meant to sit at your natural waist, but I figured they would fall down a little (they totally do) given that all pants and skirts do.  I wanted to make sure there was enough coverage so that I wouldn't have to sunscreen my extremely white tummy.
I also reduced the top seam allowance on the facing/top edge for a little more coverage.  A top casing keeps the top snugged in and prevents gaping or falling down.  It's really a well-designed pattern!  The next go round, I'll add a little more elastic–it's quite snug!
I even bought a convertible bra that actually fits me.  My ribcage is really narrow (28 or 30 band), and it turns out that strapless bras have never fit me because I never bothered searching for one with a small enough band.  Repeat it with me: bands are where your support come from!  It turns out that strapless bras are not the devil when they actually fit.
I'd love to pop this top onto a sundress for a different look.
About that aloe.

You think I jest about my dependency on sunscreen, but before I took the beach pics when I was in LA recently, I managed to get all lobster red at a ball game with my family.  Some quick application of aloe faded things down to a calmer shrimp shade and kept me from peeling.
I had enough leftover fabric from the ensemble to make a sweet Ottobre top for my daughter.  We can be twinsies!
So what do you wear to the beach besides swimsuits?
Elizabeth Farr is the writer behind the Elizabeth Made This blog where she shares helpful sewing tips, step by step sewing tutorials and videos to help you explore your creativity through sewing.  She has written sewing Eguides and patterns, been a featured teacher at Rebecca Page's Sewing Summit and Jennifer Maker's Holiday Maker Fest and her work has appeared in Seamwork and Altered Couture magazines.  She also created a line of refashioned garments for SEWN Denver.  When her sewing machine isn't humming, she's playing and teaching violin, and hanging around a good strategic board game with her husband and 4 kids.