When Renata announced the Colors of Flags Challenge, I knew I wanted to participate. Not only do I really admire Renata and want to support her, the 4th of July is probably my favorite non-religious holiday. How can you not love a holiday that combines fireworks with BBQs and drippy ice cream sandwiches? Plus Rachel's 'Murica dress died recently…one of my favorites of hers. It was time to step up to the plate and be unashamedly, semi-obnoxiously American.
First draft
My first idea was to do a red, white, and blue version of YSL's iconic Mondrian dress.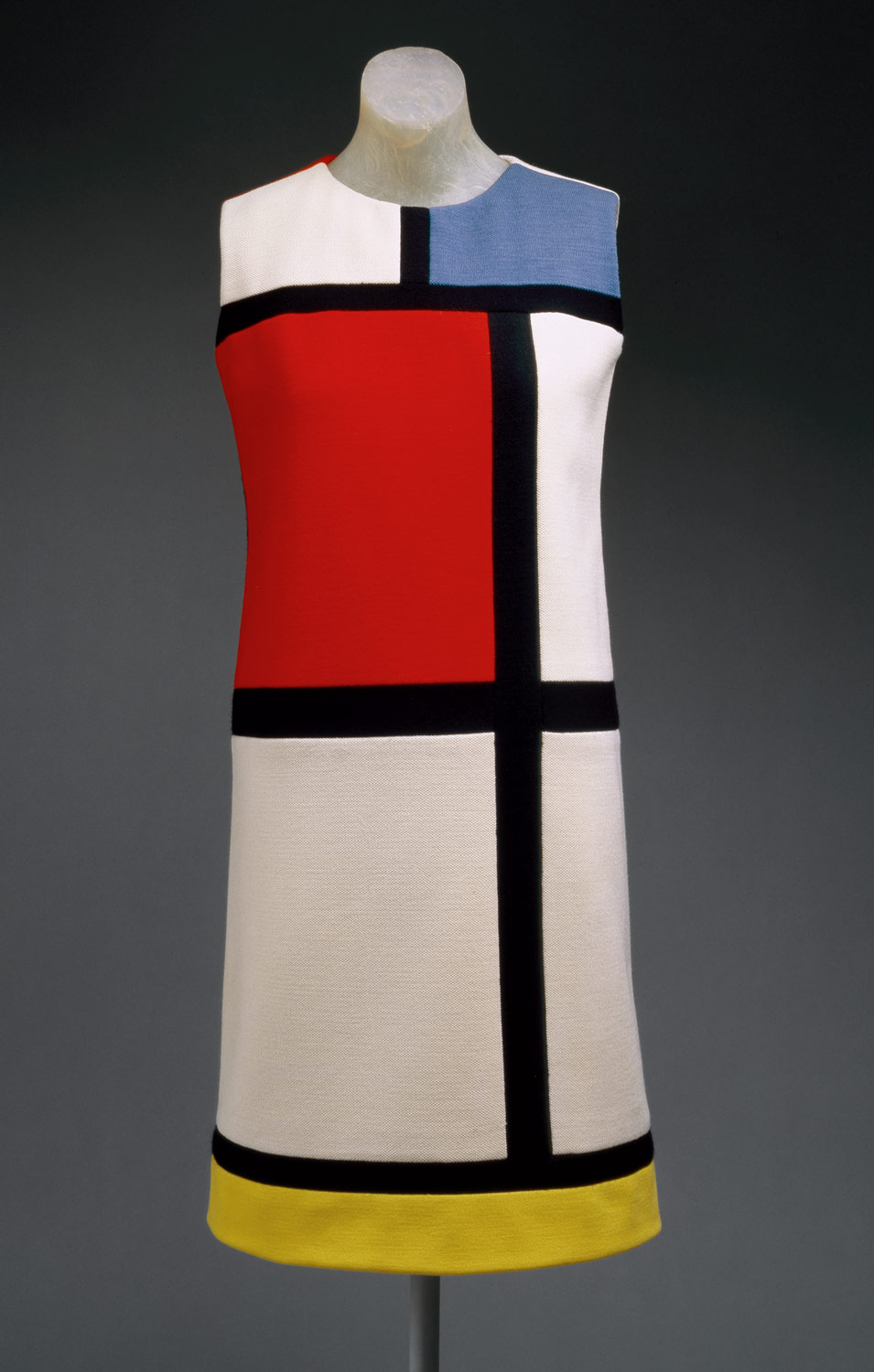 The problem with this idea is that I'd have made it in ponte knit. Ponte in December is a brilliant idea. July, on the other hand is not the month you trot out your ponte knit fabric. Red is not a color I wear on a regular basis, so I didn't want to put a lot of money into something I wouldn't wear a lot. Kismet found me at the thrift store and I walked away with a red and ivory Gap t-shirt, and some Dana Buchman navy stretch woven capris with white anchors. Immediately, I knew what had to happen.
One Shoulder Frankenpattern:
Burdastyle 2-2013-109 + Burdastyle 5-2010-130 + some freestyling
I've been wanting to try a one-shoulder style since Maria's one-shoulder dresses she made for the Day and Night Dress Challenge. For mine, I wanted to have a knit bodice and a woven skirt. When I went looking for inspiration (specifically searching "knit top woven skirt dress") for just that, I kid you not the first image (now the second image) that popped up was this Lilly Pulitzer Dionne Dress: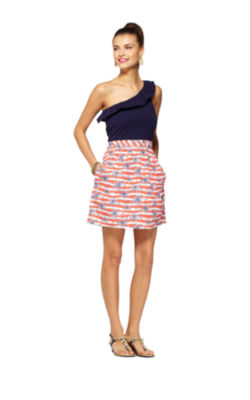 So that's pretty much exactly what I wanted to make.
For my version, I started with Burdastyle 2-2013-109 (asymmetric top) which I decided to pair with Burdastyle 5-2010-130 (pencil skirt). I tried on the top and tucked it into the skirt, marking the junction with pins. On the top pattern, I added 1″ below that line for seam allowance and any oops allowance I might need. It turns out I needed the oops allowance because that 1″ with 3/8″ taken out for the seam allowance was just where I wanted the waist to be.
The hack
The asymmetric top has one shoulder that's a regular sleeveless armhole. The other side has a piece of fabric that wraps around from the back to the front to create a sleeve that attaches to the front neckline. To get the one shoulder look, I copied the front neckline to the back. I copied the armscye of my favorite t-shirt pattern to finish the sleeveless armhole side.
Ruffles!!
To add the ruffle, I measured the circumference of the front and the back neckline and multiplied x 2. I gathered and basted the ruffle to the top of the front and back after I sewed the side seams. In my practice dress, I bound the edge with foldover elastic. On my Colors of Flags dress, I opted for clear elastic inside a casing. I prefer the feel of the foldover elastic, but the casing is ultimately less bulky at the neck edge. The FOE is really struggling in places to cover all of the gathering of the ruffle.
I should note too that the practice dress is made from scraps leftover from my Donna Karan top. The scraps made it necessary to add the random waist seam. Sometimes you just make it work…The skirt is home dec fabric from two really nice pillow shams. The fabric has a little bit of the hand of a vintage bark cloth. I originally intended the pillows for some home dec project for my sewing room, but I gave it up because I already have a dominant floral print in there. Also, home dec sewing is not the most interesting…
Strap
After constructing the bodice, I knew I wanted to add a strap. The elastic in the casing makes it nearly impossible for the dress to fall down, but it's always my preference to wear regular bras with summer styles. On the practice version, I cut it a little longer so that it scrunches over the elastic that I put inside the strap. On the patriotic version, I cut the elastic and the strap the same length for a clean look.
Skirt
The skirt is made as is with no alterations to the pattern other than eliminating the front fly. The knit bodice is sandwiched in between the front and inside waistbands for a clean finish inside.
Side zipper
The Lilly Pulitzer dress apparently does not have a zipper as , so I went forward with the practice dress without putting in a zipper in the blue/floral version. This was a mistake. The skirt fabric has no give and it's already a pretty fitted style. Do you have those dresses you have to do weird yoga to get into? This is one of them. The patriotic dress sports a side invisible zipper which is such a better idea.
Plaid shirts for the guys
Other than that, I used that pretty combed cotton plaid in the IG picture above for button downs for my guys. All the patterns are the same Ottobre patterns I used here.
If you haven't already, go check out more about the Colors of Flags Challenge on Instagram #flagsoftheworlddressproject#colorsofflagchallenge #4thofjulyprouddressproject. There's still time to share your outfit through your blog, IG, or YouTube(until July 7th) for a chance to win some great prizes available from Sewing and Design School, LA Finch Fabrics, and Dressy Talk Patterns.
I hope everyone has a safe and happy 4th of July!
Elizabeth Farr is the writer behind the Elizabeth Made This blog where she shares helpful sewing tips, step by step sewing tutorials and videos to help you explore your creativity through sewing.  She has written sewing Eguides and patterns, been a featured teacher at Rebecca Page's Sewing Summit and Jennifer Maker's Holiday Maker Fest and her work has appeared in Seamwork and Altered Couture magazines.  She also created a line of refashioned garments for SEWN Denver.  When her sewing machine isn't humming, she's playing and teaching violin, and hanging around a good strategic board game with her husband and 4 kids.