I haven't tackled any big sewing around here of late.  I've somehow made it to the halfway point without having to don a shred of maternity clothing, and part of me is curious just how long that can last (and curious just how far ITY will stretch).  The other part of me is just busy with other things, moving writing and photo editing down the priority queue.
What has been coming out of my sewing room are little projects…that is little both in size and time commitment.
One of my best friends has always been gung-ho about Operation Christmas Child.  She sets aside her birthday party every year to host a packing party, and she's really committed to finding a way to reach as many kids as possible across the world with these little shoebox gifts and the hope of the Gospel.  This year, she found an easy project via Clip With Purpose for making jump ropes for boxes from upcycled tees.  My friend does not sew and has limited time to do projects, and this no-sew project was the perfect mix for her of cheap, easy, and quick.  After she had made her lot, she passed on extra tees to me and I made up 11 ropes in just a couple hours.
At my church we've also been working hard on Operation Christmas Child.  Denver is home to one of the 8 processing centers.  Before the boxes get shipped, they have to be checked which is what happens at the processing centers.  If items like medicine, candy that can melt, broken items, or toys that evoke war or dangerous animals that may be in areas where the boxes go to (snakes, for instance), they have to be removed and replaced with "filler" items.
At the processing centers there are large boxes of "filler" items stocked with small toys, hard candy, and anything else that you might be packing in your box to begin with.  Last year, the filler items were running really low in our processing center, so my church committed to donating those kinds of things.  In addition to buying filler items, the women's ministry has been making things to go in the filler items.  It seems like most of the ladies have been doing little projects of the crochet and knit variety, but I've been working on finding quick and easy and small sewing projects.
You can follow my Pinterest board, Charity Sewing if you're looking for quick little projects like this.  Even if you don't have a processing center nearby you, you can easily put any of these things in your boxes.  Or host your own packing party with some other crafty types and share your items among yourselves as you put together your shoe box gifts.
I've been making quick zippered bags to hold pencils.  There's umpteenmillion tutorials out there on making zip pouches, and they all yield really nice little bags.  I line mine in the same way that I read about in one of Lisa Lam's books.  I love her method of sandwiching the lining with the outer fabric and sewing it in one go.  It makes the lining process absurdly fast.  I think in the book she makes a comment to the effect of "you'll wonder why you haven't been putting all of your zips in like this in the first place"…it's totally true.
The other project I've been working on are little reversible headbands.  Happy Together offers a great free pattern for adults and girls with an equally easy tutorial.  With a tiny bit of elastic and an absurdly small amount of fabric, you can make a whole troop of these headbands.  I particularly love how soft these are.  As a kid, I never wore headbands because the hard variety always pinched my head and made my ears hurt.  This is a great project for using up scraps of precious fabrics that you have no other use for.  And, you can assembly line sew them, which is great practice if you want to increase your own sewing efficiency.
Beyond charity sewing, I made a new ironing board cover for my mini ironing board.
I've also been embroidering too.
I found this cute vintage Jiffy Stitchery embroidery kit from the 70s on Ebay.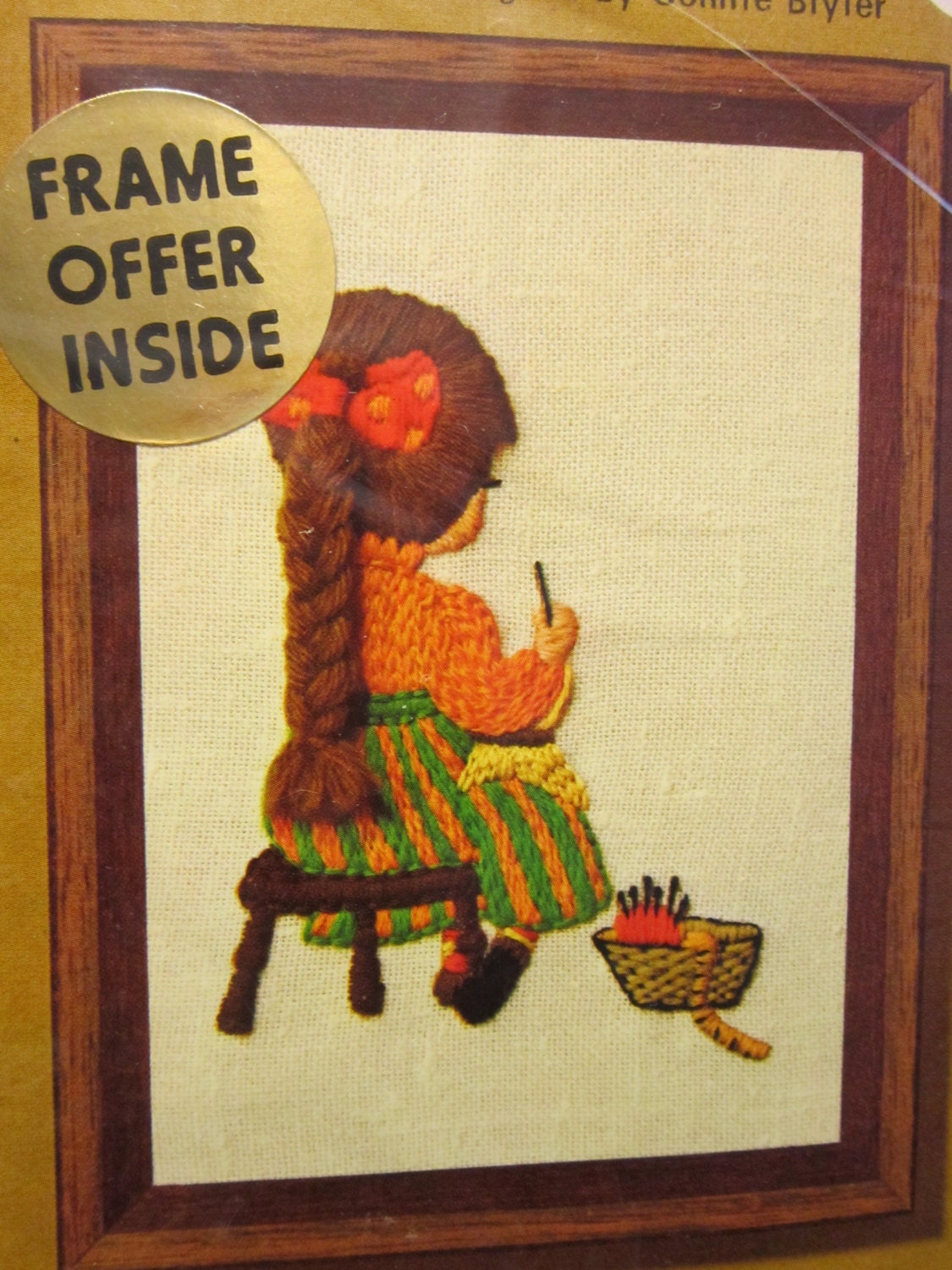 I loved the design of a girl embroidering for my sewing room, but not so much the 70s color scheme, so I revamped the colors so that they match my own palette and the other decor in my sewing room.  Big difference so far.
I've made a little more progress since I took this photo, but mostly, I'm just doing a tiny bit here and there when I have nothing better to do.  Besides the fact that embroidery allows you to explore texture and drawing with thread, I enjoy how it can be a welcome distraction for a busy mind.
What are your favorite quick and easy sewing for charity projects?  I'd love to have some more ideas!
Let's keep the conversation going!  Check out my sewing dreams and inspiration on Pinterest, and keep up to date on my projects on Instagram and Facebook.