Some vintage thread storage options
Vintage can get pricey really quick.
But, if you have an eagle eye and you're patient, here's some nice vintage items to watch out for when you're treasure hunting.
Thread store display boxes
These are the most expensive of the lot. The cheapest of these thread display boxes I saw on Ebay were going for around $150. There are some all-wood antique numbers all the way up to (not kidding) $3000+!

My Mom has this dream of buying thrift store art and going on Antiques Roadshow and then the appraiser falls over her for having purchased the lost Picasso for $2.50. These cabinets are for sure beautiful and complete with the clever construction of a bygone era.
Who knows–you might get lucky and find one of these pieces of history for a song!
Samsonite Train Cases
I love Samsonite train cases for sewing storage in general. They're virtually indestructible and they're deep enough to hold serger cones.
They're one of the sewing supplies at thrift stores I'm always on the hunt for. I've been lucky enough to never pay more than $8 for any of mine!
I'm thinking of upgrading my situation with this serger cone netting to keep the ends of the thread in check.
A funky thread storage option ca. 1960s-70s
I love kitschy one of a kind things that you'll probably only find at antique stores.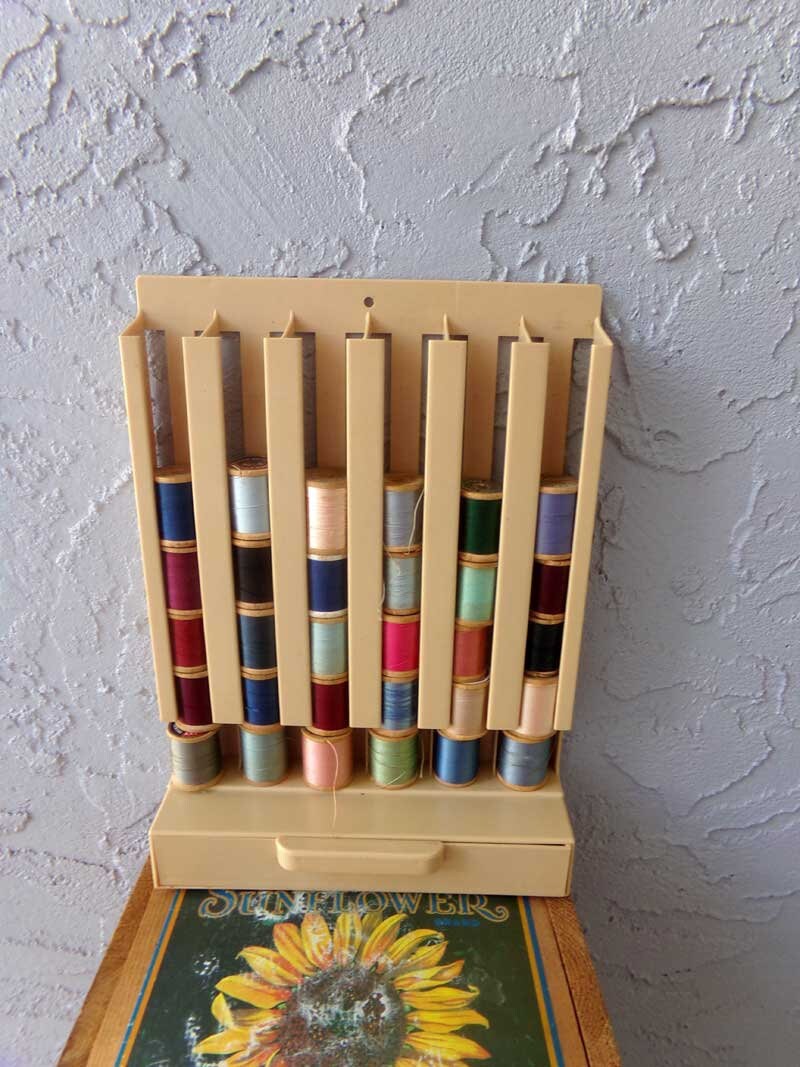 Such was this vintage thread rack. No, it's not solid wood, and it's probably not as practical as many of the other options we've been talking about, but doggone it's cute!
It's like Connect 4 for your thread!
How do you store your thread?
So hopefully by now I've got you thinking about different thread storage ideas. We've talked about what makes a good thread storage solution, as well as given you some specifics on thread storage boxes, racks for your sewing machine and serger thread, and we finished up with some DIY and vintage options. Which idea do you think will work best for you?
Get some more organization help for your sewing room:
How to store fabric
Make your fabric stash work for you with these fabric organization ideas
Pattern Storage hacks
Get the organizing help before patterns become the Tribbles of your sewing room
How to clean a sewing machine
Treat yo machine because you know it's dusty
Elizabeth Farr is the writer behind the Elizabeth Made This blog where she shares helpful sewing tips, step by step sewing tutorials and videos to help you explore your creativity through sewing.  She has written sewing Eguides and patterns, been a featured teacher at Rebecca Page's Sewing Summit and Jennifer Maker's Holiday Maker Fest and her work has appeared in Seamwork and Altered Couture magazines.  She also created a line of refashioned garments for SEWN Denver.  When her sewing machine isn't humming, she's playing and teaching violin, and hanging around a good strategic board game with her husband and 4 kids.