My husband's jacket is FINALLY done!  Wouldn't you know that the first and only garment I've ever sewn for him turned into the project that dragged itself out in grand fashion?  I was tempted to put in a label like these ones from Sublime Stitching: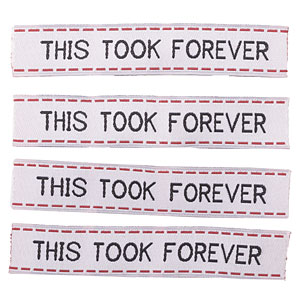 Still, this Shelby Nallo Jacket turned out to be one of my nicest jackets, and my husband is very, very happy with the end result.
The pattern
Originally, I wanted to make this jacket as my entry in the Patternreview Menswear contest.  My husband's REI fleece jacket is getting quite worn, and I was going to replace it for Christmas anyhow.  Going on REI's website, it became clear to me that I could make a nicer jacket for less money than what I could buy one for (or so I thought–read on).  After some research, I found the Finnish outdoor company Shelby.  Shelby is pretty amazing in that they tell you exactly what kind of hardware and fabrics to use in order to get in order to make a quality jacket that will rival a RTW outdoor company.  They sell their own line of jackets, and they have a section of their website where you can do-it-yourself complete with patterns, fabric, tapes, cords, and hardware.
I learned through this process that quality jacket fleece is light years beyond the stuff you pick up on sale at the fabric store.  The fabrics needed for outdoor jackets are really specific since they're designed for extreme weather conditions.  They're highly technical, lightweight, and have specific properties (windproof, waterproof, will keep you warm down to x degrees etc).  Left on your own to find fabric, you can get lost in all the specifics.  Or, at least I have when I've considered making a jacket before for my husband.  If you follow Shelby's recommendations for fabric, you will absolutely end up with a really nice jacket.
The Shelby Nallo Jacket had pretty much what I was looking for.  I wanted a hood so that my husband had some options for warmth, especially on the windy days that are not uncommon here.  The hood is the best part.  It's super tall, and has a drawstring system inside of it that completely blocks out wind.
The fabric
Armed with my knowledge, I purchased some windproof fleece.  More specifically, I bought Polartec Windbloc fleece.  Seattle Fabrics describes it thus:
"A special barrier lets windblock fabrics maintain their insulation in windy conditions and remain breathable.  Withstands the equivalent of a 40 mph wind.  In addition, it is water resistant and the inner fleece or mesh has great wicking capabilities."
Seattle Fabrics sells this for $27.95/yard, but I was able to find it on Ebay for $15/yd with free shipping.  I was really glad I could find the fabric for less because the pattern already set me back close to $20 (gotta love shipping prices from Finland).  People, I would gladly have paid twice the price for this fabric.  I can't begin to describe how nice this stuff is.  It's thick and warm and has the most beautiful hand I've ever seen on any fleece. Ever.  Sometimes you save money, and sometimes you invest in quality.  This situation was the latter.
Tips for sewing with windproof fleece
This fabric is extremely thick.  I found it was necessary to start every seam by sewing on a folded scrap of the fleece (a doubled layer mostly, but on thicker areas, up to a quadruple layer)to avoid the thread being pulled down into the machine.  Basically, you want the back of the presser foot at the same thickness as the seam that you're about to sew.  A "hump jumper" or "jean-a-ma-jig"that you might use for sewing denim will work, but I've found sewing on the scrap is more reliable.  Keep sewing onto the seam once you've sewn a few stitches on the scrap.  This is especially useful for topstitching to keep those first few stitches even and the correct length.
Every single seam is topstitched with a double row to help the fleece lay flat on the inside of the jacket.  The pattern's excellent instructions recommended one row of topstitching and trimming the excess fleece away on the inside.  I preferred to do the double row without trimming.
I still have a little handstitching to help flatten the areas inside where the second row of topstitching missed the raw edges.  I'll do this at my leisure since the fleece doesn't fray.
Test run

Already $50 into this project, there was no chance I wasn't going to muslin this jacket.  I cut up an old Snuggie I found at the thrift store for $3.  It was a good thing I did do a test run because the original hood was far too tall for my husband, the arms too long.  I folded out the excess length in the arms, and draped out the extra height via darts in the hood.  Nathan wanted it just slightly longer too.
Notions
I bought cords and cord stops from this Outdoor Bunker on Ebay.  I liked that they had literally every color you could ever imagine vs. the standard white or black stops you get at the fabric store.  Their elastic cord is really nice stuff too since they sell it to outdoorsmen to make, "Custom tie-downs, straps. Weave a cargo net, etc."  Now that I've finished the jacket, I'm going to go back and by some zipper pulls which will be more secure than my diy ones I made with the extra elastic cord.
A Goldilocks dilemma re: zippers
How hard is it to find the exact zipper that you need when you need it?  It turns out, it's much harder than you would ever think.  Too short, wrong kind, wrong material, not enough…It's like Goldilocks herself took responsibility of the zippers in this project.
The pattern called for a 27″ zipper which I dutifully bought.  After sewing my way through the pattern, I get to the zipper insertion only to realize that I had bought a CLOSED ENDED zipper, not a separating zipper.  I did not want to buy Coats and Clark zippers because they're not the most sturdy zippers, and I was paying good money to make this jacket.  It's pretty easy to find YKK vislon (YKK's plastic zipper line) zippers that are short, but these longer ones are not the easiest to get a hold of.  The majority of the stores I looked at didn't have anything longer than 22″.
I drove to multiple stores in Denver.  One only had 22″ metal zippers and didn't have any plastic separating zippers (after being reassured on the phone that they had lots of zippers).  The other store was low in their stock because that week they were moving across town.  They had 2-way navy separating zippers that were long enough, but not one-way separating zippers.  Because I couldn't get a zipper, I missed the deadline for the contest.  It was not a big deal, but it was a little disappointing.
I came home and bought a one way separating 27″ zipper as the pattern recommended on Zipperstop.  I don't know if it's just me or if it was the timing with Christmas or what, but Zipperstop's shipping was really slow.  It took over a week for my sad, one little zipper to come in the mail.  When it comes, I tear open the package and again take it to my machine to start sewing only to realize, this zipper is too short.
Why is that so?  I forgot that I had lengthened the hem by 1″.  Smacking my head yet again, I reorganized my zipper stash.  This time I got smart and measured the exact length of the zipper.  It wasn't even close to 28″–try 30″.  All of my husband's jackets that run from the very bottom of the hem to the top of the neck.  Lesson learned: next time, I will pull out a measuring tape BEFORE buying a zipper.  I waited yet another week and a half for the right zipper from Zipperstop.
Armed with the correct zipper (*finally*), I sewed up the zipper and finished the jacket.  Nathan goes to put it on and realized that the front zippered welt pockets were chest pockets and that there were none near the side seams where he prefers to put his hands.  I ordered even more zippers (from Ebay this time.  St. Charles Marketplace has much faster shipping)!  The zipper fiasco was definitely funny at this point.  It's a good thing I love sewing zippered welt pockets too because otherwise, I would have been utterly defeated.
Conclusion
I've written before that there are times when you sew rather inefficiently, and this was the case here.  I sewed the jacket in short order, but all of the waiting around pushed out this project more than a month longer than normally.  For someone who does not deal in the land of sewing UFOs, I was going a little bonkers.  In the end, I'm glad my husband has a jacket he's really proud to wear, and I learned a lot about outdoor jackets and exactly how to buy zippers.
Have you ever had a project like this that dragged on forever?
Elizabeth Farr is the writer behind the Elizabeth Made This blog where she shares helpful sewing tips, step by step sewing tutorials and videos to help you explore your creativity through sewing.  She has written sewing Eguides and patterns, been a featured teacher at Rebecca Page's Sewing Summit and Jennifer Maker's Holiday Maker Fest and her work has appeared in Seamwork and Altered Couture magazines.  She also created a line of refashioned garments for SEWN Denver.  When her sewing machine isn't humming, she's playing and teaching violin, and hanging around a good strategic board game with her husband and 4 kids.