All of my t-shirts have been slowly wearing out, so at the moment, I have t-shirts on the brain.  You know what that means, right?  It's time to dust off my Pinterest boards and get to hacking.  This linen split flutter sleeve tee started as a search for something to do with linen knit, and it's become one of my favorite hacks I've ever done.  It's a simple hack, but I think it's really effective, plus it has a Romantic sort of style that's airy and perfect for summer.
I'm so excited about this, that I decided to dive headlong into the notion of video tutorials.  I'm working on editing a video featuring a tutorial for this top.  Look for it here on Thursday!
Linen Split Flutter Sleeve Tee
Inspiration
I went searching for linen tees, and this J Crew one was one of the first that popped up.  I love the idea of a flutter sleeve.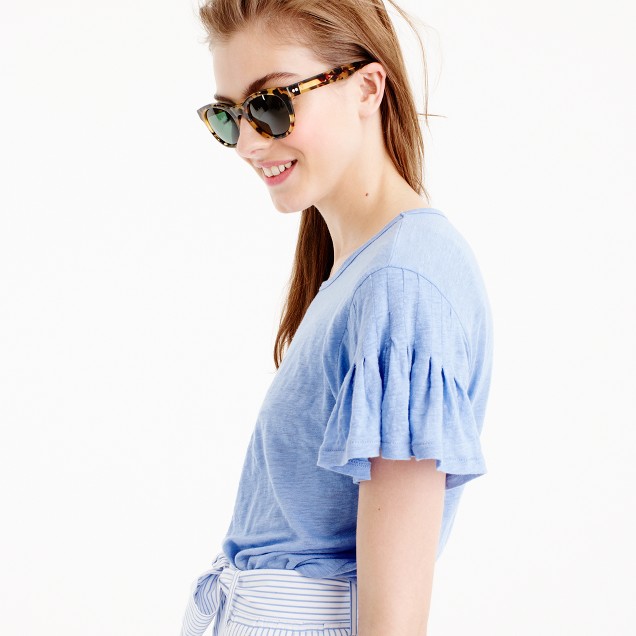 The J Crew sleeve is constructed much differently than what I settled on, but I like the overall effect.  I chose to change up my sleeve like this Whistles' top but with an added split in the sleeve.
My pattern of choice
I chose to start with Straight Stitch Design's Greenwood Tank.  I like the shoulder width on this tank, and after I altered it to have the same armhole as my favorite Jalie 2921 tee, it's become a favorite tank pattern.  Because it has the same armhole as the Jalie tee, I can freely pop in Jalie sleeves.  For this tee, I started with the cap sleeve from the Jalie 2921.  A few quick changes, and the cap became a flutter sleeve with a split.
Linen knit
I have a couple of linen knits in my stash that I've been saving.  Linen is my #1 favorite summer fiber to work with, and when I started seeing linen knits pop up in RTW stores like Madewell and J Crew a few years back, I decided to try and find some of my own linen knits.  I've picked up mine from Fabric Mart and Cali Fabrics' San Francisco store, but I know I've seen them at Harts' Fabric and Mood.
What's lovely about linen knit is the breathability.  It's so light, and I daresay that it'd still remain cool in the sweatiest of summer climes.
There are a couple of drawbacks to linen knit.
They're sheer.  You're either lining this, wearing a cami, or showing more than is advisable.
They don't recover well.  This fabric does not bounce back well.  It'll require special handling and good pattern choice so that it doesn't stretch out into a pile of falling off your shoulders.
The lining that I added helped with both of these problems.  I can wear the tee without worry of showing too much, and the lining fabric (a very bouncy poly spandex with superhero recovery) helps support the linen.
A growing binding
I opted for a simpler neckline finish than the Greenwood.  In the original pattern, the folded bindings are stitched on, then flipped over the stitch line and stitched down.  It makes for a really clean finish, but again, I wanted to avoid overworking the linen.
As it was, I had to baste the binding on 3 times because it was too long and kept stretching out more every time I touched it.
Once I got the correct length, I stitched the folded binding just once, serged the raw edge and then stitched it down below the neck seam.
Watch this space for the video tutorial on this top!
 Flutter sleeve tee pattern hack tutorial
I went and done it.  I took my first plunge down the deep rabbit hole of Elizabeth Made This' YouTube channel.  Producing took way longer than I expected it to, but my first official video is now up!  I hope you enjoy this split flutter sleeve tee pattern hack tutorial.
For the sharp ears, you can enjoy my kids' laughter in the background!

Elizabeth Farr is the writer behind the Elizabeth Made This blog where she shares helpful sewing tips, step by step sewing tutorials and videos to help you explore your creativity through sewing.  She has written sewing Eguides and patterns, been a featured teacher at Rebecca Page's Sewing Summit and Jennifer Maker's Holiday Maker Fest and her work has appeared in Seamwork and Altered Couture magazines.  She also created a line of refashioned garments for SEWN Denver.  When her sewing machine isn't humming, she's playing and teaching violin, and hanging around a good strategic board game with her husband and 4 kids.