Perhaps I'm a glutton for punishment with sewing for contests.  Next on the docket for me is Patternreview's One Pattern Many Looks Contest.  The goal of the contest is to make one view of a pattern multiple times (at least 2), making each variant look different.  Simple changes like altering hem lengths or the shape of a neckline are allowed, but big changes that require pattern drafting skills are not.  If it changes the structure of a garment, it's a no go.  So, I could add a seam for the purpose of colorblocking because the shape of the garment remains the same, but I couldn't convert a dart into a princess seam.
I've been thinking a lot in terms like this since making all of my t-shirts for SEWN, so I jumped at the chance to do this contest.  I'm using the Patternreview Lillian Top in the dress view for all of my 4 variations.
Little Dresses for Africa
A note about this pattern.  It's named in honor of Lillian Weber, a woman who in her 101 year lifetime sewed over 1,234 dresses for Little Dresses for Africa.  If you don't know, LDFA is a charity that seeks for sewists to make up and send dresses for girls and shorts for boys (Britches for Boys) in Africa.
One of my best friends does a lot of work here locally with Operation Christmas Child, and the people there told her that simple dresses like the pillowcase dresses or dresses made from Miss Lillian's free pattern really help protect the children from being victimized.  My friend said if the children have new, clean clothes to wear, they are seen as belonging to a family and cared for and they are therefore less likely to be picked up for child trafficking and other horrible things.  If something so simple could help so much, it's definitely something I want to be a part of.
As such, Patternreview is donating 20% of the pattern sales of the Lillian top to LDFA.
Lillian Dress through the seasons
My idea was to make 4 iterations of the Lillian dress–one for each season of the year.  I've been in need of knit dresses as all of mine that I've made to date with a few exceptions are either worn out or too big.  Note to self–if you wear dresses through pregnancy, um, they tend to stretch out and they probably won't come back. 🙂  I really love wearing knit dresses because of the ease of dressing that they provide and the comfort they provide.  Grab a knit dress and a few accessories, and you're ready for the day in about 5 minutes which is often all the time I have in the morning.  Having one available to me in any weather is even better.
This pattern really lends itself to multiple variations.  The yoke in the front is a great showcase for any number of techniques.  Bianca's version caught my eye during the Lillian top blog tour.  After seeing her reverse applique Lillian, my head was pretty much exploding with ideas.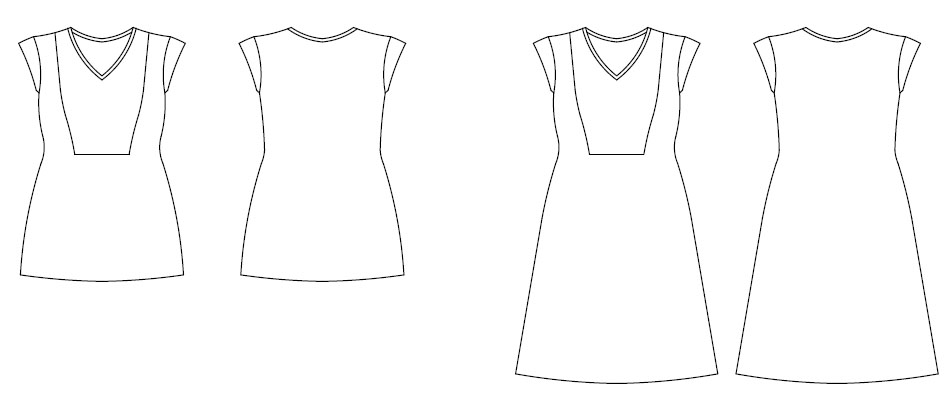 Winter Lillian Dress
For a winter Lillian, I went with a caramel colored wool/cashmere blend sweater knit.  I added a mesh overlay on the yoke.
When I went to Joann to find some kind of contrast, I didn't really find what I was looking for–namely a good sheer mesh knit with some texture that let the caramel of the wool shine through.  The closest was a knit lace with floral embroidery and sequins.  Ultimately, it felt too dressy and the ivory was too dominant against the brown.  Instead, I opted for a plain ivory mesh that I embellished with iron-on studs.
I like wearing longer tunics in winter with leggings and boots, so I shortened the dress length to about mid-thigh.  I also lengthened the pattern's cap sleeves to long sleeve for warmth.
Though this fabric is wool, it's a little sheer.  Usually, I like adding a strip of fusible interfacing in the hems of sweater knits to get a really nice clean hem.  Sweater knits, unlike most knits can unravel, and the fusible does a good job of keeping a hem from doing so.  On sheer sweater knits, you can unfortunately see the fusible.  To achieve a clean hem without fusible, I added strips of the sweater knit itself (cut on-grain).  You still get the support the fusible offers, but when you look at the hem, all you see is the fabric.
Spring Lillian Dress
Spring is my favorite season!  I can and do wear spring colors year round because they are the colors that best suit me.  For this Lillian, I chose this rather springy raschel sweater knit.  I really love these kind of open weave knits for spring.  Spring is very fickle in Colorado.  With snow one day and 70 degrees the next, my family and I often refer to our weather that time of year as "Sprinter".  The 3/4 length sleeves give me a little more warmth.  I can easily add a base layer or jacket in needed.
The yoke on this dress features a green/ivory lace overlay.  To add the lace, I simply cut a yoke from the lace.  Then I hand-basted it to a yoke cut from the sweater knit.
Because this knit has a very open weave to it, it was not necessary to clip into the corners to round the corner on the yoke.  After I staystitched the corners, I started sewing the yoke in.  I decided to clip the knit only if I needed to to round the corner.  As I suspected, the open weave had more than enough flexibility to navigate the corner without a pucker.  I'm afraid that if I had clipped it, I would have ended up with a hole in the corners.  Disaster averted!
The open weave proved a little tricky in a couple tiny spots (about 1/2″ on one of the sleeves and 1/2″ on one of the side seams).  The sheer act of cutting across the pattern made for cuts in the fabric that could have created holes in the final garment.  To avoid this, I added tiny strips of the lace on the seamline.  The tighter mesh of the lace gives the thread something to hold onto as it's stitching the two layers of sweater knit together.  No holes here!
This knit is also sheer, so I added self fabric to interface the hems.
Summer Lillian Dress
For this Lillian, I used this lilac and orange stripe from Girl Charlee.  The knit is pretty lightweight, and the colors feel super summery to me.  I cut the fronts and backs on the bias.  By adding CF and CB seams, the stripes chevron all the way around.
I cut the stripes on the crossgrain for the yoke.  Next, I cut a yoke from a solid peach knit that I also used for the cap sleeves.  After basting the peach to the stripe, I lines at 1″ intervals through both layers at a 45 degree angle to CF.  After this, I slashed through just the peach fabric.  I used a similar technique for my Victory Patterns' Lola Dress.  The resulting look creates a different kind of texture that I was looking for on this yoke.
Fall Lillian
This Lillian is by far my favorite of the bunch.  When I saw this pattern, my head immediately went to blockprinting.
I've carved stamps and blockprinted off and on since junior high.  I have curtains in my house I made from 5 yards of cotton that I printed with 2 different stamps in 3 colors.  It's pretty recent that I'm getting up the nerve to add blockprinting to actual garments.
This stamp I carved from a drawing of a lace applique I made.  This is definitely the most complicated stamp I ever carved, and it was fun to try and emulate the texture of the lace in the simple lines that you can achieve with a carving tool.
The fabric I chose for this Lillian dress is a poly blend heavy knit from Cali Fabrics' brick and mortar store in San Francisco.
The cool thing about blockprinting is that you can put a design EXACTLY where you want it.  When we sew with printed fabrics, there's often a lot of thought work when you lay out the pattern.  Such work helps you avoid such maladies as "target boobs" and other unflattering looks.  When you blockprint, this kind of problem is very easily avoided.  For this project, I printed areas for the yoke and the sleeves.  First I traced around the pattern pieces with a washable maker, then printed just what I needed.
The screenprinting ink I used is a combination of royal blue and a tiny bit each of yellow and black.  I was aiming for a slightly warm navy.
I chose 3/4 length sleeves again because Fall is just like Spring here.  With temps from snow to 80, 3/4 length sleeves give me a lot of options for layering up or down as needed.
The other thing that I added to the sleeves are a vertical strip of clear elastic to add a little ruching.  I think it goes with the girly nature of the blockprint.
Conclusion
Overall, I'm really pleased with all of these versions of the Lillian dress.
The contest ends November 15th.  I'd love your vote!
Elizabeth Farr is the writer behind the Elizabeth Made This blog where she shares helpful sewing tips, step by step sewing tutorials and videos to help you explore your creativity through sewing.  She has written sewing Eguides and patterns, been a featured teacher at Rebecca Page's Sewing Summit and Jennifer Maker's Holiday Maker Fest and her work has appeared in Seamwork and Altered Couture magazines.  She also created a line of refashioned garments for SEWN Denver.  When her sewing machine isn't humming, she's playing and teaching violin, and hanging around a good strategic board game with her husband and 4 kids.