I hope everyone had a good holiday yesterday, and happy Boxing Day!  The Day and Night Dress Challenge is getting closer to starting!  Hopefully, by now you've started thinking about what kinds of dresses you'll be making for the challenge.  If you haven't started planning, check out some of the inspiration posts to help guide your creative process!  Today I have some night look fashion inspiration from RTW.
I don't know about anyone else, but when I'm in the planning stages of a garment, I often peruse RTW online for ideas.  These days, retailers make it so easy for us.  Who's guilty of using the zoom features to focus in on a detail that's eventually made it into one of your makes? *raises hand and waves it emphatically*
There's a Pinterest board just for this!  Check out my Night dress fashion inspiration board
If you remember from the challenge details, night looks need to be black.  You may add extra pieces or accessories to your looks that can be any color you choose.  So what do you think about when you think of a black dress?  Really, the sky is the limit.  Designers love black!  Since the color is not the focus, other details can come into the spotlight.  Texture, silhouette, hardware, and construction features are some of the ways that designers exercise their creative freedom within the restraints of a black dress.
Night Look Fashion Inspiration
Texture
One of the easiest ways to add texture to a little black dress is in your fabric choice.  This sheath dress from The Limited creates a lot of movement with the added fringe.  The flappers of old really understood the power of fringe, no?
This Versace dress creates texture by adding this lightning bolt out of a contrast sheer mesh.  It's simple, but incredibly well-executed.
Playing with light is another way to add texture to a garment.  This Hevre Leger dress does a beautiful job with this.  The added sequins pick up the light to highlight the waist and the shoulders.  It's almost so subtle that you have to look twice to see it.
It's hard to talk about texture in a black dress without thinking about lace.  Because lace is sheer, you can easily create visual texture by what you choose to back it with.  I've been slow to accept the cold shoulder trend, but this Willa dress from Anthropologie is a lovely example of a lace cold shoulder.  You can see how the lace physically stands out differently against the model's skin vs. the black fabric.
Silhouette
I think most people think of a little black dress and think a slim silhouette like a sheath or a wiggle dress or a similar bodycon style.  But why be limited to narrow silhouettes?  Let's explore some different shapes.
A-line
There's something just joyful and ultra girly about a simple A-line dress.  It's a classic style, and one that most everyone can wear.  I love the texture change on the skirt of this ModCloth dress created with the contrast fabric.
Asymmetrical
Asymmetrical skirts are everywhere these days.  They create a lot of drama, and they're a different twist on a fit and flare silhouette.  This one from Solace London is particularly well-executed.
Caftan
I know tent silhouettes are really popular right now.  They can be difficult to wear! If you go this route, why not use a light floaty fabric to create the volume.  This way, you won't be drowning in fabric.  This Halston caftan does a great job of it.  Though there's a lot of fabric here, the sheer chiffon doesn't overwhelm.  The chiffon also reveals the solid slim-fitting lining, which further balances the volume.
Hardware
Grommets, zippers and other such metallic things can go a long way in adding visual interest in a simple black dress.  Here's some of my favorite examples:
Roland Mouret Morland cutout double-faced stretch-knit dress
HERVÉ LÉGER Karlee off-the-shoulder embellished bandage dress
Asos Hardware open back maxi dress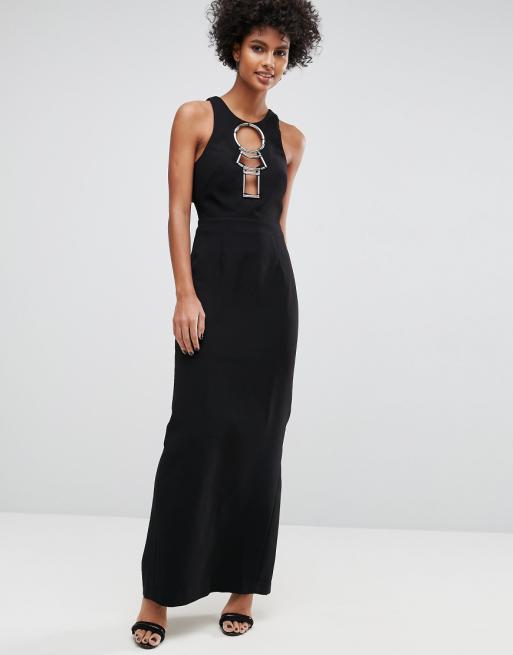 Construction features
This is the anything goes category!  Fairytale sleeves, ribbon shoulders, ruffles, bow shoulders, and scalloped necklines oh, my.
Drea belled dress from Anthropologie
Gwen Midi dress from Nordstrom
Ruffle hem dress from J.Crew
Tibi Off the shoulder embellished crepe mini dress
Ann Taylor Cutout scalloped dress
So where are you finding your inspiration for your night looks?
Sew some dresses!
Let other people know about it.  Use #dayandnightdresschallenge on Twitter and Instagram and follow the Day and Night Dress Challenge Facebook group.
Check out the Pinterest boards connected to the challenge: Day Dress Fashion Inspiration and Night Dress Fashion Inspiration
Enter your project at the bottom of this page (click on the blue "Add your link" button) to win great prizes from the challenge sponsors.
Grab a graphic and post it on your site: