I didn't intend to not write for nearly 4 months, but as it has turned out, I've needed very little in the way of clothes this pregnancy.  The advantage of having had previous pregnancies that started at a heavier weight is having more than plenty of clothes for the last few weeks when it feels like nothing fits.  But I did go ahead and make this fringe collar dress.  I had this lovely fringe trim leftover from my tablecloth dress, and I've been looking for the right project to use some of it.  Hey, and fringe is in right now!  Yay!  After months of absence at the Monthly Stitch, I finally could finish a challenge!
Fringe Collar Dress
I made Burda 7287 some time ago after being inspired by Kyle's version, and it has become one of my favorite winter dresses.  Paired with or without the detachable collar, and the fingerless gloves that I wear literally all winter, it's been a versatile staple in my wardrobe.  For this project, I decided to make the other view on the pattern where you sew on the collar at the neckline and add trim to the bottom edge of the collar if you like.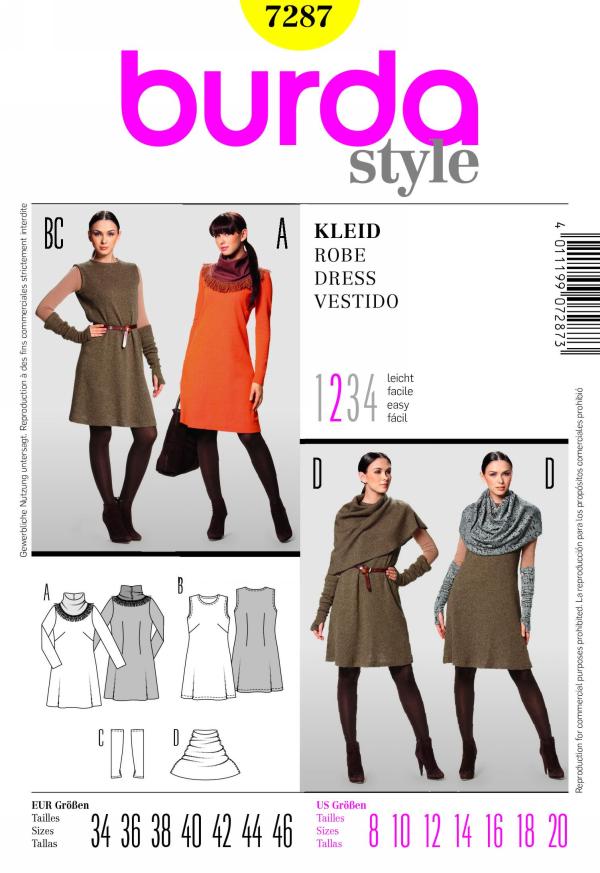 I cut the main part of the dress from some really nice interlock that I scored at the thrift store a couple of years back.  It was one of those days where fortune favors the person willing to go a hunting through the muck and mire when I pulled out this fun black and white print made by Kaufmann.  There was no less than 5 yards of it and I paid $3 or $4 for it.  It's soft and does not stretch out at all like a lot of interlocks do.  It's stable enough too that I've used some of it to muslin dresses I make in ponte like my opera dress.
Still, I don't wear black.*  So I knew I needed a way to break up the black so I didn't get the horrid zombie look that I get when I wear it.
*Well, I will wear black if I'm contractually obligated, i.e. a violin gig, but I'm never happy about it.
I found an XL rib knit sweater in one of my blues while a thrifting one day and I loved the springy feel it had.  Remembering how soft a rib knit sweater had made my Denver Tunic, I decided to combine the blue with the black and white.  It would keep the black away from my face and make for a cozy collar that would look great with the added tablecloth fringe.
Though it wasn't obvious at the time that I deconstructed it, the sweater had raglan sleeves, so I didn't have quite enough yardage to make a full length sleeve as per the pattern.  Instead, I carried down the black and white to the bottom part of the sleeve, cutting it at an angle like this:
The pattern's sleeve is well past full length on me, which makes sense given that the arms are intended to have thumbholes.  Though I've tried many many times to create a good solution for thumbhole tops, I've never really been comfortable wearing them, and these are no exception.  In past tops, I've done what patterns suggested, just leaving a gap in the side seam which inevitably twists and is generally so small that it cuts off the circulation to your thumbs.
To avoid numb thumb, I cut a 1″ square where my thumbs hit and then used some of the rib knit to bind the edge of the hole.  Now, there's more than plenty of room for my thumb and the base of my thumbs, so there's no chance of the blood being cut off to my thumbs.  Still, the thumbs pull on the sleeve when I have my arms extended, like when I'm driving or playing my violin, and they sadly do not offer me any extra warmth.  So next time, I'll stick with either the sleeveless version with added fingerless gloves, or simply shorten the sleeves to a normal full length on me.  I think thumbhole tops are just simply not my thing along with wrap dresses, maxi dresses, and button-down shirts.
As for fitting, I merged this pattern with Burdastyle 6-2010-132 which is a crossover style maternity dress.  I always loved how the Burdastyle pattern fit.  A lot of maternity patterns have excessive ease, flare and gathering that just ends up making you look and feel like a marshmallow, but this one is cut in a really slimming sort of way.  It gives you enough room for the growing baby, but nothing crazy beyond that.  Still, I'm kind of over crossover styles.  I had experimented with merging this pattern with my normal t-shirt for a pajama top, and I liked my experiment enough to go ahead with a dress.  All it required me to do was to match up CF lines, overlap the crossover section with the lower front panel at the seamline and use the neckline of the non-maternity dress and the outer edges of the maternity panel where it was needed.  No extra tracing, no extra fitting or pattern work.  This was a fast and dirty alteration.
I did keep the seam allowances bigger than I otherwise would have, and I simply sewed them instead of serging them off or trimming them as I would have on a regular knit dress.  My logic was that I'd only be wearing this as a maternity dress for 2 months tops.  With the extra seam allowances intact and unfinished, it'll be easy for me to go back and open up the front, removing the elastic and cutting it to fit the original lines of the non-maternity pattern.
My favorite feature is the collar.  The rib knit drapes so well, adds a nice layer of warmth and looks great scrunched up with a vintage brooch.
Overall, it was good to get back in the saddle before all the craziness happens in a month or so with my body being any number of sizes.
My updated review is here.
How much have you ever made for your own pregnancies?  Do you shelve your machine momentarily, relying on RTW maternity options, or sew up a storm to weather the season?
Let's keep the conversation going!  Check out my sewing dreams and inspiration on Pinterest, and keep up to date on my projects on Instagram and Facebook.
Elizabeth Farr is the writer behind the Elizabeth Made This blog where she shares helpful sewing tips, step by step sewing tutorials and videos to help you explore your creativity through sewing.  She has written sewing Eguides and patterns, been a featured teacher at Rebecca Page's Sewing Summit and Jennifer Maker's Holiday Maker Fest and her work has appeared in Seamwork and Altered Couture magazines.  She also created a line of refashioned garments for SEWN Denver.  When her sewing machine isn't humming, she's playing and teaching violin, and hanging around a good strategic board game with her husband and 4 kids.