A few weeks ago Abby from Dutch Label Shop contacted me to do a guest blog and for a product review.  If you don't know, Dutch Label Shop creates custom labels and hang tags for home sewists and fashion designers.  Dutch Label Shop provided me free product in exchange for my review.  The opinions are my own.  Keep reading for a discount code that you can use for your own custom printed labels.
Custom Labels
First, I wanted to try out the custom labels and some hang tags as well.  I've ordered basic woven labels from Wunderlabel in the past (which are also really nice), but I was looking to give the custom route a go.
Price
Dutch Label Shop lets you order pretty much as little or as much as you want.  A test run of 5 labels will run you $20.  Upwards from there, the price per label goes down considerably.  100 labels will cost you $76 (.76/label), but 500 only costs $127 (.25/label).  So why would you order a test run when the price goes down so much the more you order?  Well, perhaps you want to test out colors or see what your design will actually look like before you invest.  A test run would be a great option.  The basic labels ($33/100 labels) and also the stock labels are less expensive, so there's some great budget choices.
I went with 100 labels.  I figured it was a good compromise between trying out a design and actually having a good amount of labels to work with.  The design turned out so well that I will definitely be reordering.
Hang Tags
Hang tags really make your handmade goods look professional.  They're a great way to show off your logo and other information about your brand to your customers.  Think of them as a business card on a string.  Since hang tags are printed not woven like the labels, they are much less expensive to produce.  A test run of 30 will only set you back $15, and 500 hang tags (enough for your own in home factory!) are $80.
Design Process
When you go to create your own labels/hang tags, you upload your design to Dutch Label Shop.  From there customer service works with you to make sure everything is absolutely perfect.  This was so valuable to me.  I'm not a graphic designer, so I really needed a little extra help.  The customer service guy was very professional and incredibly patient, and though it took several emails back and forth to get things right, the end result was just what I wanted.
My hang tags have my (new) logo text against a lace border background, and the labels have the same text.  The printing on the hang tags and the woven text on the labels are clear and crisp and I can't wait to put them on everything!
While you're checking out Dutch Label Shop, you can catch my guest blog for them.  I wrote up a piece with ideas for incorporating sewing into your summer vacation plans.  I know I have this Doctor Who themed cross stitch pattern in mind for my own upcoming road tripping this summer!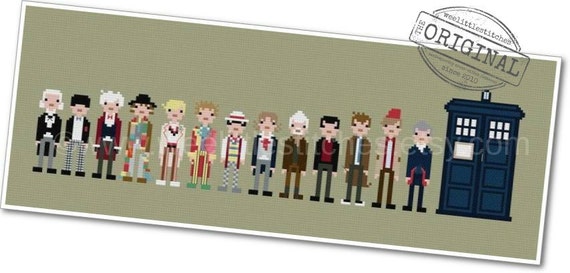 Coupon Code
I would highly recommend the Dutch Label Shop experience.  You're going to end up with some lovely labels that you'll be proud to put on your garments, and you'll have a great customer experience.
Dutch Label Shop is offering a 10% coupon to all Elizabeth Made This readers from now until July 18th.  Enter the code "elizabethmadethis15" (all lowercase)when you go to checkout for the discount.
How about you?  Have you ordered your own custom labels?  Where did you get them from?  What was your experience with the design process?
Elizabeth Farr is the writer behind the Elizabeth Made This blog where she shares helpful sewing tips, step by step sewing tutorials and videos to help you explore your creativity through sewing.  She has written sewing Eguides and patterns, been a featured teacher at Rebecca Page's Sewing Summit and Jennifer Maker's Holiday Maker Fest and her work has appeared in Seamwork and Altered Couture magazines.  She also created a line of refashioned garments for SEWN Denver.  When her sewing machine isn't humming, she's playing and teaching violin, and hanging around a good strategic board game with her husband and 4 kids.