[insert flashback music here]
I changed my mind about talking about my pajamas. Sew Mama Sew is doing a Pajama Party sew-along, so here goes.
These are my pj's I made from this fabbo vintage pattern.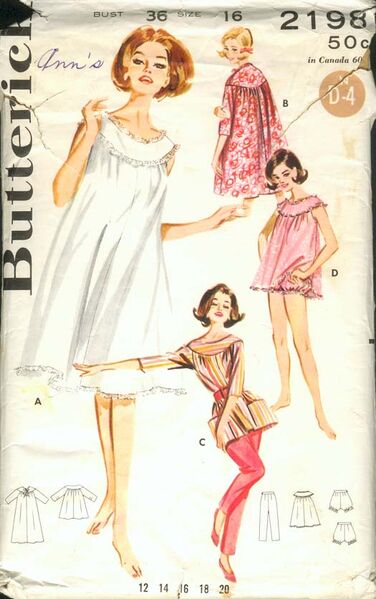 The pattern has bloomers going with the short pajama top, but I really wanted to have some knee-length bottoms, so I lengthened as much as made sense to me…really it was a botchy sort of affair–but I added a lot of seam allowance in the side seams and basted them together, tried them on and pin fit things until they worked which was a good solution.
The fabric is a vintage white sheet I found at the thrift store. Generally I use old sheets for muslins because they're so cheap, have good drapability, and offer a lot of yardage for their aforementioned crazy cheap price. But here I decided a sheet was good enough for the real deal. Really when you think about it–you sleep ON sheets, so sleeping in them is not too big of a stretch. Plus that nice crisp clean sheet feeling you have after you've freshly laundered your sheets–yes, you can have it in your pajamas too.
The lace was super fun to use. I ran out of the lace I used on the collar by the time I got to my little shorts, so I used a cotton blend lace I had in my stash.
I overdyed the pajamas after I finished construction.  I liked the fabric for its weight and its pattern (which seemed to fit the design and the era of the design fairly well), but I really wanted pink pajamas.  Since I use polyester thread, I knew it wouldn't take the dye, so I used a pink thread to compensate.  The lace I used on the top, being polyester did not take the dye which was purposeful on my part just as I knew the eyelet on the pants would take a little being a cotton blend.  Actually the eyelet took the dye only on the edges which I really liked.