The Day and Night Dress Challenge: Crafting a Rainbow
I love Gillian's easy style and her commitment to her color palette. She always does such a great job of making clothes that suit her lifestyle and tastes! Get ready for some happy color courtesy of Gillian of Crafting a Rainbow!
I'm so excited to contribute to this years #dayandnightdresschallenge! If you follow my blog, Crafting a Rainbow, you'll know that day dresses are my sewing sweet spot but cocktail dresses are not. I managed to mash up a few tried'n'true patterns and come up with two dresses that I love wearing!
For coffee, I chose an ITY border print sewn into one of my all-time favourite patterns, the Kitschy Koo Comino Cap. This is my ultimate everyday dress, and I've made it at least ten times! I love the kimono sleeves and neckline, and the balance of blousey bodice with the defined elastic waist.
For this version, I cut it on the cross grain to make the most of the border print. That did meant the fabric was less stretchy, so I freehanded a bit of ease in as I cut it out. Knits are so forgiving!
For my cocktail dress, I made *another* knit dress! I haven't owned a plain black dress in years, so this seemed like the perfect excuse to add one to my wardrobe. The bodice is a Maria Denmark Day To Night Drape Top, which seemed perfectly named for this challenge! On the bottom, I used the Cashmerette Turner skirt, which is essentially a half-circle skirt. Initially I found the drape and the armscye quite low, so I took out an inch at the shoulders to raise everything up.
The fabric is really what makes this dress something special – it's the Stylish Fabrics Modal Poly Sandwashed Jersey, and it's go the most beautiful drape and finish! I've sewn with similar fabrics before, but it's something I can't purchase locally, so I was so happy when Stylish Fabric sponsored fabric for this challenge! (In fact, they sent me the wrong fabric at first but were so quick and kind in sending along the right knit. I was impressed!)
This fabric is a bit sheer in sunlight, so I self-lined the bodice and used a scrap of ITY to make a lining for the skirt. Now I don't need a slip, and everything hangs beautifully! It's winter in Canada, so I tried to style this as I would wear it now… but in summer I'll wear it with metallic sandals and lots of bracelets. Like any good black dress, I think this would take me to any occasion, from errands to date night!
Shown side-by-side, it's clear my two dresses have a lot in common… but I love how the bright fabric of the coffee dress makes it fun and casual, and the more dramatic shape of the cocktail dress make it more feminine and flirty.
Ultimately, feeling comfortable always makes me feel more confident, and both of these dresses put a spring in my step! If I went out for coffee or cocktails in either dress, I'd feel like the best version of myself. That's the magic of a me-made wardrobe!
Thanks again to Elizabeth for inviting me to join in, and to all the other incredible sewists participating – what an inspiring community! I'd love to hear from you: which are you more comfortable sewing for, coffee or cocktails?
The Day and Night Dress Challenge 2018: Life of Robertswife
I'm delighted to see JeTua of Life of Robertswife here again for The Day and Night Dress Challenge. She has such a beautiful feminine style that is tailor made for this challenge. I know that her dresses will be a thing of elegance and beauty!
Hey Ya'll!
It's me, Je'Tua Amos!
I am BEYOND EXCITED to finally reveal my garments for THE DAY AND NIGHT DRESS CHALLENGE. Thanks to Elizabeth for the opportunity to participate in this challenge for the second year in a row.
My dresses for the challenge were both PDF patterns from our sponsors! (insert gasp) It was actually my first time working with PDF patterns and I was nervous about how it all fit together. Thank goodness that Youtube has videos for this exact purpose!
The theme for this year is Coffee and Cocktails. I don't drink either, but I do think my dresses meet the challenge. I guess I can substitute both for Cranberry juice. (Insert smiley face)
Coffee Dress:
Pattern: Auberley Dress by Blank Slate Patterns. I was extremely nervous due to it being my first PDF pattern, but once I got started it was a breeze. Just to be safe, I cut a size up just in case the pattern ran small. I cut a size 14, when I usually cut a size 12. I think it worked out fine. The instructions are very simple yet detailed enough so that you aren't left to guess the next step. I do foresee more of these in my near future.
Fabric: Stylish Fabric (IG: @StylishFabrics)
Off White with Mauve Flowers on Rayon Challis Fabric
I love the flow and drape of this fabric! I don't drink coffee, but I will wear this on a day out for a stroll around the mall.
Did I mention that this dress has attached ties? How convenient for the different sizes and shapes of all women.
Cocktail (Smoothie for me!) Dress:
Pattern: Dashing Dress by Ellie and Mac Patterns (*affiliate link*). When I saw the collar to this dress, I just knew that it would be a winner. I had to make the pattern my own by adding a sash. I thought the contrasting piece on the sash really brought the extra , and I love being EXTRA…LOL. I just want to mention that this dress is one of the easiest patterns that I have sewn. I do plan to make different versions of this dress. One thing I will do differently is to lengthen the skirt. It was a little too short for my comfort (key word: MY).
Fabric: Stylish Fabric (This fabric was wonderful and they shipped FAST!)
Black and White Tribal Print Geometric Ponte Roma
SKU: 6831-TRIBAL-BLACK-WHITE
Mustard 60″ Rayon Nylon Spandex Stretch Heavy Ponte Roma FabriC
SKU: 3010- MUSTARD
The Peter Pan collar makes this dress different from the rest. It's a winner in my book.
Please note the contrasting piece on the sash. I made the dress and felt something was missing. I believe I guessed correctly!
Thanks for the opportunity and I hope you are enjoying the Day and Night Dress Challenge 2018!
The Day and Night Dress Challenge: Brittany J Jones
It was the lovely Brittany J Jones who encouraged me to give The Day and Night Dress Challenge a go last year, and I'm so glad that she's joining us again to show off her coffee and cocktails looks. Welcome Brittany!
Hey everybody! I am so excited to have joined in for the #dayandnightdresschallenge. Elizabeth is so talented and does the most amazing job with this challenge. Today I'm sharing with you my coffee and cocktail dresses.
Coffee dress
For my coffee dress, I knew I wanted it to be a shirtdress. Shirtdresses are one of my favorite dress styles to make. I used Vogue 8903. View B without the front pockets was perfect for my dress. I love the finished look of it and its versatility. It'll get a lot of wear out of it with heels, flats and sneakers throughout the year.
For fabric I used an Olive Rayon Challis from LaFinch Fabrics. This fabric is AMAZING! Its soft, sews up great, lightweight and the drape is so beautiful. Speaking of drape, I used the same fabric from my cocktail dress and you can see more of the drape in it.
Cocktail dress
For my cocktail dress, I went with a Vintage Simplicity pattern 1059.
I made this dress once before but I love this one more. For one, I eliminated the back zipper for this version. In the first dress, I found it to be unnecessary. With such a deep v neckline, it can slip right over your head. I raised the v neckline about 2 inches to give me a little more coverage. I also shorten the hem a by 2 inches. This Burgundy fabric is also a Rayon Challis from LaFinch Fabrics.
Thanks for reading, and I can't wait to see what other dresses get revealed for this challenge.
Blessings
Brittany
The Day and Night Dress Challenge 2018: Valentine & Stitch
I met the delightful Helen of Valentine & Stitch through Sleeve Fest, and I just love her aesthetic. Her easy styling with little French touches are two of the things I think are really special about her patterns. You've seen me in Cassandra now, and here is Helen in her dresses for The Day and Night Dress Challenge! Thanks so much for joining us today, Helen
Coffee with Tiffany and cocktails with Vogue: sewing serendipity for the Day and Night Dress Challenge
Thanks so much to Elizabeth for hosting this challenge, and for having me here on her blog today! I'm Helen from Valentine & Stitch, and I'm excited to share my completed Day and Night Challenge dresses with you:
But every dress has a story, right?
Regular readers of my blog will know that I love the Swedish designer Jenny Hellström, particularly her Ballerina top. In addition to her six individual patterns, Jenny also has a book called Urban Wardrobe, but it was only available in Swedish. I speak no Swedish, so thought it would be forever beyond my reach. Then I found out it had been translated into French, which is my second language! There was no reflection, patience, or second thought: I ordered it instantly. And that's what came through my door just before I replied to Elizabeth's message inviting me to be part of the blogging team for this challenge.
There are so many lovely patterns in there, but the Tiffany dress in particular caught my eye, as it is designed to be adapted from casual to formal depending on the fabric choices. Then once Elizabeth launched all the details of the challenge I realised we could use DIFFERENT PATTERNS for the day dress and the night dress (I had first thought it must be the same pattern for both dresses), and I had seen this fabulous dress Kathryn Brenne designed for Vogue but I had no occasion to make it for…
So basically, fate/destiny/supreme happy coincidence was smiling upon me for this challenge. Sometimes you've just got to believe in serendipity, don't you? And here's how my serendipitous sewing panned out…
The day dress: Tiffany by Jenny Hellström
A big thing you need to know about me is that comfort is EVERYTHING. I will never sacrifice comfort for style. And in fact, Jenny's mantra is that "life is too short to be uncomfortable": she writes in her foreword that "elegance does not come from rhinestones and high heels. Elegance comes from the way you look at things, the way you hold yourself, your attitude". Cue major punching of air with fists! I always find that I hold myself too consciously in overly fitted dresses. I like something with a bit of ease, not necessarily to hide my shape but to skim over it rather than outline it. So the Tiffany dress with its soft lines is, well, PERFECT. I ordered this navy floral rayon jersey from Finch Fabrics, and I loved it instantly when it arrived at my door.
Tiffany is supposed to be very low-cut and worn with a vest or slip underneath. Since I had enough fabric left, I sewed up a little camisole we're designing for our forthcoming lingerie set, but in the end the identical fabric under the dress meant the dress neckline just sort of disappeared. However, I just happened to have set aside for the charity shop a seven-year-old RTW silk dress that came with a detachable navy slip (and, being me, hadn't yet got round to taking it away – I told you destiny was smiling on me!) so it now has a new purpose in life!
You can see here that the feature neckline of the dress gets lost with the matching camisole, and also the neckline of the cami is a little too high for the dress.
But fear not, my camisole was not made in vain. Firstly, it looks great with jeans:
And secondly, the finishing of the neck and arms with lingerie elastic gave me an idea to add a little flourish to the dress too! The neckline and sleeves are supposed to be finished with a simple hem, but I was slightly concerned that the floaty rayon might gape a little too much and be constantly falling down, which would go against the "comfort" factor if I was constantly hoiking up a sleeve. So I decided to finish it with navy lingerie elastic to make sure it sat well and stayed put.
I chose an elastic with only a very narrow decorative edge so that it wasn't too much, and I like the look of it and the neat finish on the inside. That being said, I should have stretched out the elastic more. I didn't want to alter the neckline by cinching it in since it was only supposed to be finished with a hem. This drapey fabric would actually have benefited from being pulled in a little.
Laid out flat, you can see that the neckline is stretched out a bit on the crossover side, (the side that has the fabric weighing it down; the other side is just that small piece attached to the faux wrap).
As for the bottom hem, I used hem tape to stabilise the rayon, and it really helped avoid the tunnelling that can happen when you hem a delicate fabric with a coverstitch or twin needle.
I cannot get enough of this product, and will be found evangelising about it for a long time to come!
So despite the fact that I'd do the neckline a little differently next time (maybe I should have used the hem tape there too…) I'm really happy with this dress. And although in reality I usually wear jeans and a sweater to the coffee shop, one day I may just surprise the staff and show up in this!
Evening dress: Vogue 9268
And so on to my evening dress. I just loved the style lines of this dress – it looked floaty and dreamy and elegant and special… everything I drool over but rarely get to wear. I was intrigued by what looked like a circle skirt as part of the dress – it's not a separate pattern piece joined at the waist (i.e. not bodice and skirt, as you might expect), but rather two pieces joined with a centre seam, so the join is vertical rather than horizontal.
I'm a fan of anything that doesn't cut me off at the waist as my torso is ridiculously short. However, I never wear a full skirt because my hips are so high (thank you, short torso), so you might wonder why I chose this dress… call it a moment of madness, but it was a folly that paid off, as it has achieved the impossible: a full skirt that makes me feel elegant.
Although I would have loved to make this dress in a sumptuous fabric, I know I don't have an occasion coming up where I could wear something so fancy. I made a resolution this year that I would sew more mindfully, with the hope that everything I make is loved and gets worn, so I decided to sew this dress in a cotton jersey from Girl Charlee UK. My one concession was to it being black (basically my instant "make it formal" formula!)
The instructions were clear and concise: there's quite a bit of stabilising to do in the seams, which makes sense as there is a lot of fabric for the dress to carry. But once you've done those finicky bits, it's a very straightforward sew.
I sewed version A – short sleeves and shorter length. As you can see from the photos, it looks almost full length on me (I'm 5'6"/ 168cm) so I'm glad I went for this rather than the longer version. After taking out my standard 5/8" from the bodice, the main thing I did differently was to insert the sleeves on the flat rather than on the round – this is just my preferred method for sewing with knit fabrics, and after reading the instructions there didn't seem to be any reason why it wouldn't work. There were two other small additions I made : firstly, I used shoulder tape rather than elastic to stabilise the shoulder seams. I like how I can enclose shoulder tape WITHIN the seam, so it strengthens without being at all visible.
Secondly (try to look surprised), I used hem tape rather than interfacing to stabilise the hem. This was mainly to make my life easier – rather than cutting long and narrow strips of interfacing, hem tape is already the right width and just needs snipping off at the right length. Anything to help out when working with such a massive hem… Oh that hem… it's a big old hem… I used the hem tape all the way round rather than just at the centre, and it meant I could just press up the hem without pinning, then sew in place. So it stabilised AND made the process easier – what's not to love?! (OK, no more mentions of hem tape, I promise).
This dress is so effortlessly elegant! It's truly one of those "princess for a day" styles that make you feel like you just stepped out of daily life and into the pages of a magazine. I don't have many formal occasions but the style really is timeless and so I expect this will be my staple formal piece for many years to come! And if ever I get invited somewhere fancy, you can bet your boots I'll be making this in velvet.
The true test of a garment for me is "would I make this again?" and for both of these patterns I give a loud, resounding YES! I probably wouldn't have sewn either of them without the prompt of this challenge, so I am grateful to Elizabeth for inviting me to be part of it, and to all of you for reading. Thanks so much for having me!
The Day and Night Dress Challenge: Thanks I Made Them
Bianca of Thanks I Made Them is one of my favorite sewists. I'm always inspired by her unique approach to textiles and her eye for detail. Her dresses for The Day and Night Dress Challenge are great examples of both of those things! Welcome Bianca!
Last year, I received an invitation to participate in The Day and Night Dress Challenge. I was happy to take part and loved the dresses I made then. When I received the invitation for the Coffee and Cocktails Challenge this year, it coincided with scheduled knee surgery. Recovery meant 8 or more weeks of rest, right knee immobilization and the use of a walker or crutches. I accepted the invitation, unsure how I would make it work with those discouraging restrictions, but I knew I wanted to try.
Coffee Dress(es!)
I enjoy the slow meditative process of hand-sewing. In my new role as a Nature's Fabric brand ambassador, I know they have a wide range of regular and organic cotton jersey fabrics. It was fun to try them out and knew a slow-stitch project in this down time would be the perfect opportunity.
I love the lines of Butterick 6241, and I chose this pattern because the center panel was a perfect canvas for an embellished accent. The lines of the sleeves, bust, center back seam and pockets were perfect for top-stitch highlighting. I thought the zipper and collar would distract, so I omitted them.
There is graphite colored jersey for the exterior of the dress and Sun colored for the background. I love this color combination and happiness of this yellow. This organic cotton jersey is a dream to sew. The colors are strong and the weight has nice drape without being clingy. The combination of the two layers is firm without being rigid.
I have been learning to use a laser cutter and making my own stencils. I used it to paint the motif using a light grey fabric paint before sewing the layers together with white button and craft thread. Once all sewn, I removed the middles to reveal the color beneath.
I love the large pockets and accents of the top-stitching on the flat-felled seams.
The fabric was a dream to sew and I loved how this dress turned out. I was so pleased with it, I made another!
This Heather grey and graphite version is sewn with an applique technique with the same stencil and white fabric paint.
With this technique, after stitching, the outside of the shapes are cut out leaving about 1/4 inch of the fabric beyond the paint. When washed, the raw edges will curl adding to the texture of the shapes.
The neckline is finished with a folded bias band that is top-stitched down. The sleeves and hem are left raw and will curl when washed.
How fun are these over-sized pockets?
This dress is heavy in my rotation and as I make more stencils, I will be making many more. If you would like to make an embellished garment like of my coffee date dresses, you can buy a laser cut stencil in my Etsy store. It includes a PDF with the step-by-step instructions for the applique and reverse applique techniques.
Cocktail Dress
For my cocktail dress, I really wanted to make a fun and flirty dress in African Wax fabric (because WAKANDA FOREVER!). Given my physical limitations, I went with a simple dress that required little machine sewing.
I love the paper bag neckline of the Jiffy Vintage Simplicity 8793 pattern. It goes well with this cranberry colored satin from my stash. I love the framing effect of the neckline and did not want the tie in the front. The front is cut on the fold and left an opening for the drawstring in the back. I made a contrast tie with an African Ankara fabric (because WAKANDA FOREVER!).
If I have the rare impulse to be subtle…
I also made a tie with the same cranberry satin.
Not only has this challenge given me a chance to make three new dresses, it has done so much for my mental state while laid up. Keeping my mind and hands busy was a useful distraction from the pain. As I stitched, I was reminded of the therapeutic benefits of making.
Thanks Elizabeth for another fun challenge!
The Day and Night Dress Challenge 2018: Faye's Sewing Adventure
As I go back and put all of these posts together, I'm glad to remember this wonderful lady. Faye was a wonderful person, and she has been missed. I was grateful to have had her input in this challenge before she passed away. You can still read her posts at Faye's Sewing Adventure.
…well, it's done! Last year I watched the 2017 Day and Night Dress Challenge from afar, and it was really amazing to see all the gorgeous entries from the talented participants. Little did I know then that I would be part this year's challenge and I was elated when Elizabeth ask me to join in! I really enjoy sewing and have a passion for it, but I do stress a little over each and every one of my projects because I always want to do my best work. This challenge project was no different. I stressed in the pattern selection process but in the end I am really happy with the way my dresses turned out.
Coffee Dress
Choosing patterns for projects is not always an easy task for me (one of the downfalls of having a gigantic pattern stash). After narrowing down my selections I finally choose the Jasper Sweater/Dress by Paprika Patterns and added leather accents for the epaulet at the collar and welt pockets as my Day dress. I added a single lonely antique button from my stash that I thought was cute.
This pattern had been on my radar for several years so I thought now would be a great time gave it a go – I am so glad that I did. I used a small hounds-tooth check pontederoma from my stash and I can't even remember where it was purchased. It was just enough for me to lengthen the body of the dress 3 inches. I love this dress with it's band sleeve cuffs and hem! Now I know why people often refer to certain garments as pajamas. I've already worn the Jasper 3 times since finishing it. I think it's the perfect dress to wear for a meet-up with a friend for a leisurely coffee date.
Cocktail dress
I also had a difficult time choosing the pattern for my Night dress, and flip flopped between two McCall's patterns for a while. I finally made myself return to McCall's 7622 – – because my initial vision was that of a swing dress. I've never had one of those, and wondered it it would really suit me. After settling on the pattern choosing a fabric that I thought would be suitable for the dress was my next issue. You'd think that having once in a life time pick of an entire website (compliments of Stylish Fabrics) this would have been an easy chore. I finally choose a drapey ITY knit.
When I first received the ITY knit I was sure that it was too light weight so I immediately constructed a lining made of jet set for it. But when I added the lining to the dress it weighted a ton and I immediately removed it.
There are many views to choose from in this pattern, but I decided on the mock neck version with cold shoulders to add a little pizzazz for a night out – picture a nice dinner theater night out. This dress makes me feel exceptionally dressed up and flirty which was exactly the look I was going for.
It was wonderful having a part in this challenge with such a wide variety of sewists from near and far. A great big thanks to you, Elizabeth for hosting the #DayAndNightDressChallenge! It was so much fun and gave me lots to talk about for weeks and weeks…
The Day and Night Dress Challenge: It's Melanie Darling
Yay! It's Melanie! My co-conspirator on That Sewing Blab's So You Think You Can Sew competition and the queen of custom dressmaking and sweet shoes in all of Florida! I have been so looking forward to what she'd be making for The Day and Night Dress Challenge, and her two dresses will not disappoint! Welcome Melanie!
This is my second time participating int he The Day and Night Dress Challenge. I was particularly happy about it being about Coffee and Cocktails as I love the both. Elizabeth of Elizabethmadethis is the gracious host who is such an amazing sewist.
For my coffee look, I chose Burda 8072 in a lightweight linen. I loved that pattern had such a vintage feel to it, and I love anything vintage. This dress was very easy to make and I didn't need to make any modifications. I know I will get a lot of wear out of it. It comes highly recommended.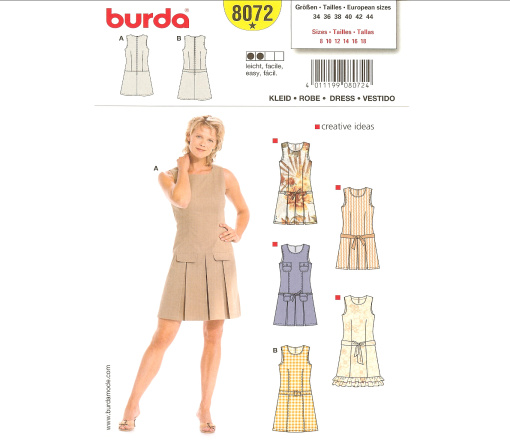 For my Cocktail look, I used McCalls M7722 in a awesome textured knit from Stylishfabric.com. I was so impressed with the quality of the knit. It was so soft to the touch and flows amazingly.
I decided to make my Cocktail dress with a little asymmetrical details with thea peekaboo sleeve on just one arm "View B". In addition to that, I added a flounce at the hem for a little zip. I thought it came out very very lovely.
Happy Sewing!
The Day and Night Dress Challenge 2018: Akram's Ideas
The wonderfully creative Akram of Akram's Ideas is joining us today for The Day and Night Dress Challenge, and all I can say is, wow. This might be the most fun interpretation of a challenge I've ever seen.
Hello All, I'm Akram from Akram's Ideas. If you are familiar at all with Akram's Ideas you'd know that I'm all about "bringing creative and crazy ideas to life".
So it should be no surprise that when Elizabeth of Elizabeth Made This, asked if I would like to join the "Day and Night Dress Challenge" this year, that I would come up with both a creative and yes very crazy idea.
Day and Night Barbie
For my 2018 "Day and Night Dress Challenge" I would use 1984 Day and Night Barbie as my inspiration.
This was one of my favorite dolls when I was about 3 years old. Barbie had a pink suite for day that would change into a Pink cocktail style dress for evening.
My Day Dress
Pulling from my Barbie inspiration I knew I wanted to make a pink suit. A bit overdressed for this challenge but since I work at a University I practically live in suits, so for me it's perfect day attire.
While I wanted to use Barbie as my inspiration I didn't want to copy her dress exactly. Mainly because I knew a 1980's style double breasted pink suit wouldn't really look good on me. So instead of copying the doll exactly I used her as inspiration.
For the suit I used a pale pink dotted textured fabric along with Simplicity 2229 pattern.
I choose this pattern mainly because the skirt was a wrap skirt in style and I knew I could make a few minor hacks to create a flip around dress effect.
For the top I used some pinky purple taffeta that I've had in my stash for ever and made a lovely tank with a sweetheart like neckline using Simplicity 4500. I don't like sparkly fabrics but I thought the shiny taffeta would be perfect alternative to Babribe's top.
My Night Dress
Like the Barbie I wanted the skirt to be reversible. And while the idea of a big poofy tulle skirt sounds like a lot of fun, thought of that much tulle on the inside during the day wasn't ideal.
Instead I decided to go with a lace overlay sort of look. I had in my stash some pink chiffon like fabric with embroidered flowers. This fabric looked amazing on top of the same pink taffeta I used for the top.
Two For One Dress
So there you have it my Day and night Dress inspired by Day and Night Barbie.
I know it's a super silly idea, but this is something I've always dreamed of having in my wardrobe since I was little kid. I mean who doesn't want a flip around dress in bright pink? After all Barbie had one, right?
I am really happy with how the whole project turned out. If you want a little more information about how this dress was constructed besure to check out my Youtube channel.
The Day and Night Dress Challenge 2018: I Love 2 Sew
If you've never seen Sue Parrott from I Love 2 Sew and her creative, precise sewing, you will thoroughly enjoy her contributions here to The Day and Night Dress Challenge. Welcome Sue!
How fun is this challenge? I thoroughly enjoyed figuring out what to make using only fabrics from my stash…honestly this just about did me in but then I 'shopped' around and found these four fabrics that I thought would work and would be things I'd wear.
Coffee Dress
First…the coffee dress! I really wanted to mix three lightweight denims that I've had for a while. I have seen some amazing sewists mix fabrics and have just loved the results. When I saw this pattern, I knew I could make a multiple-fabric garment work.
And here are the three fabrics I choose to mix and match!
If you frequent Marcy Tilton's site and drool over her fabrics, you'll recognize the denim-lace from her site. I coveted that fabric for some long that I finally broke down about six months ago and bought a measly yard of it. While that doesn't give you much to work with, it does spur your creativity and I knew that I would mix it with other fabrics. I wish I could remember where the two other denims came from, but I just can't.
Now what you are really waiting for is the dress! Here it is! This is McCall's 7506.
This will be perfect for a day dress. It's denim–hello!
Who doesn't love a comfortable denim dress to spend the day in?
This was a lot of fun to make and it will be even more fun to wear! Since I live in a climate where winter lasts far too long, it was fun to pull out my sandals and put them on!
Bring on warm days and coffee dates with friends!
Cocktail dress
Now for the cocktail dress…. here is my pattern.
Can you see all the possibilities for styling like I can? Collar, no collar, sleeves, none, contrast, etc…
Yep, this pattern is right up my alley.
I have had this fabric for a long time. It is a brocade black and white lace-look fabric that I've had for so long I forgot where I purchased it! I have been waiting for the right thing to make and I love the result!
I had fun playing with this pattern to maximize the fabric. Also, I added piping between the front/back yoke and the main part of the dress.
Faux leather-look is on the collar and sleeve cuffs just for fun!
I added some bling to the front bodice by adhering some Swarovski crystals. They just don't photograph very well inside.
This fabric is a bit heavier than the pattern called for but I am really pleased with the overall fit.
Now I just need a cocktail date!!!
Thanks for reading!
A special thanks to Elizabeth for setting up this challenge and getting so many sponsors. I feel honored to be a part of it.
Happy sewing everyone!
The Day and Night Dress Challenge 2018: I Believe I Can Sew
Welcome Georgia of I Believe I Can Sew to The Day and Night Dress Challenge! This Romanian sewist has mad skills and sews at an absolutely furious speed with an creative eye for combining textiles and textures. Her work is truly exciting to see!

I is always more fun to sew with others so I was quite intrigued to join Elizabeth's challenge. I love looking at dresses and I love making dresses but I rarely wear them.
THE COCKTAIL DRESS
The cocktail dress was done in the spur of the moment. I was reorganizing my stash a bit and found 2 pieces of fabric of 1 meter each from some of my shopping sprees during the bee and though that would make a great dress together. Immediately I thought of Lekala 4437 I done a while back in jersey and bought to try and see how it looks in a brocade and color blocked.
I cut the pieces right away to not give me time to overthink it:

And sewed it the next evening. It come together a lot faster then I expected and hangs quite nicely one me. So here it is my cocktail dress:
The skirt has a really nice flow and as you can see I could not stay put in that dress!!!
THE COFFEE DRESS
The day dress was quite the opposite to make. I spend a lot of time thinking and rethinking options for both pattern and fabric. While I do not drink coffee I do enjoy hot chocolate and caramel.. I wanted to use some shades of brown but I don't have many in my stash as is not one of my favorite color… But I thought that incredibly soft sweater knit or whatever this orange/cream fabric was will be perfect for it. And then I picked the a pattern: McCall's 7349. The combination of raglan sleeves, princes seams and flared skirt seemed to good to pass:

I was a bit limited with my print placement as the panels on the fabric weren't as long as I would have wanted. To fix this, I had to cut my skirt shorter and have some sort of printed collar around my neck but I think all turned out great in the end. Pockets were a must. The easy side inseam pockets didn't appeal to me as much so I thought of adding some welt pockets in the front and spice the dress a bit:

And since the dress didn't scream chocolate enough I though that it is time to get some dust off my embroidery machine. I absolutely love embroidery and there are so many nice designs out there but it is time consuming so I often just make do with the fun prints on the fabric itself. But I do wanted this dress to be more special to I looked up a design for it:

So here it is my day hot chocolate dress:

An because the fabric was one of the softest I ever worked with I could no resist using it up to the last scrap for kids too:
Thank you so much Elizabeth for everything.
The Day and Night Dress Challenge: How Good is That
Welcome Maria of How Good Is That to The Day and Night Dress Challenge! Maria is such a trooper having modeled her dresses while recovering from foot surgery! Are all Australians this tough? I'd love to know! Prepare yourselves for a little piece of joy!
Today's my turn to show you what I came up with this year's Day and Night dress challenge.
My day look of choice is Papercut Patterns Yoyo dress for coffee catchups. The
fabrics and notions provided by Minerva Crafts – my long time sponsor and sponsor of this challenge.
Night cocktail dress
My night cocktail dress was made with fabric from my stash using Ellie and Mac's Women's Bell Sleeve dress pattern.
The fabric I chose has a huge print and is soft. I'll show you shortly.
As you can see, I'm on crutches as I had surgery on my left toe a few weeks ago so under doctors orders I have at home with my feet elevated. Standing is painful.
The skirt width on this dress is much wider that I would normally wear but under the circumstances, this style makes me feel less restricted. I can't walk anyway so I can gracefully peer across the house on 'The Lounge'.
About the pattern
I've never used Ellie and Mac patterns. They are one of the challenge sponsors so I got this pattern for free.
Ellie and Mac patterns offer a range of children's patterns and a women's range. Their patterns are 'relaxed styling' and while I'm normally an active person, relaxing styling is what I need during these weeks of recovery.

What I love about the pattern is its v-neckline and the instructions for sewing this v-neckline.
This is also easy to sew using an overlocker, which I did.
The pattern is rated for a confident beginner and the seams are 1cm wide
Maybe it's how I printed the pattern but there were very few marking on the pattern I printed out so I felt like I was 'flying blind'. I rely on pattern markings when I sew any project together so I know I haven't stretched the fabric too far.
If I wasn't on pain medication my cocktail of choice would have been an Aperol spritz. Right now it's soda water and lime but Aperol matches the colour of my fabric.
Day coffee dress
When I made up my Day dress for coffee, I had added pockets to an earlier version and adjusted the pattern to fit me to a tee.
We're coming to the end of Summer here in Australia so this style is great for our weather.
I've also fully lined this dress with a smooth cotton fabric.
These are the two earlier version that use the facings but I felt a full lining would wear better, and it is a better solution for me.
For the purposes of this challenge I had to pair my day coffee dress with my coffee of choice – a Greek coffee.
Thanks again to Elizabeth for running this creative challenge.
Take me to more about The Day and Night Dress Challenge!
The Day and Night Dress Challenge vault
3 years, 3 challenges, scores of dresses by talented sewing bloggers and vloggers
Elizabeth Farr is the writer behind the Elizabeth Made This blog where she shares helpful sewing tips, step by step sewing tutorials and videos to help you explore your creativity through sewing.  She has written sewing Eguides and patterns, been a featured teacher at Rebecca Page's Sewing Summit and Jennifer Maker's Holiday Maker Fest and her work has appeared in Seamwork and Altered Couture magazines.  She also created a line of refashioned garments for SEWN Denver.  When her sewing machine isn't humming, she's playing and teaching violin, and hanging around a good strategic board game with her husband and 4 kids.