The Day and Night Dress Challenge 2018: Elizabeth Made This
It feels like a big responsibility to kick off my own challenge! I admit I've been dragging my feet on getting this written. Perhaps it's a little bittersweet seeing all this time of planning and hard work I've put in organizing The Day and Night Dress Challenge come into full swing. Part of me is overjoyed at seeing everyone's dresses, and part of me knows that it will all be coming to an end sooner than I'm ready for. Sentimentality aside, I'm so excited to share my coffee and cocktails dresses today!
Coffee Dress: Faux lace comfort
Inspiration: J.O.A. Ruffle knit dress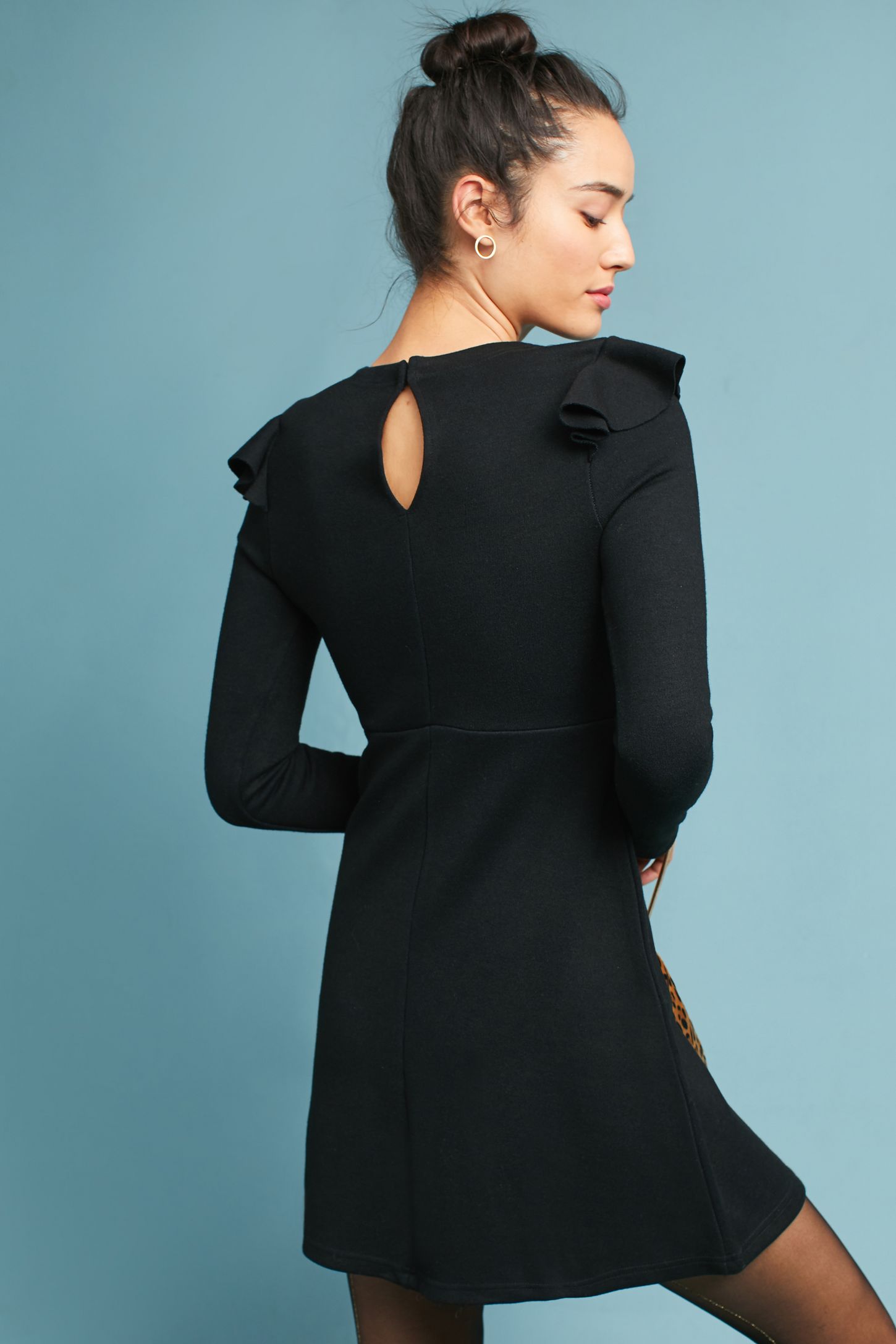 I started my thoughts for my coffee dress as I often do by perusing RTW sites to see if anything grabbed my attention. Immediately, I found this J.O.A. ruffle knit dress on Anthropologie. I love the simple lines and the girly details of the little flounce on the sleeve cap and the back keyhole opening.
Valentine & Stitch Cassandra Dress
Helen of Valentine & Stitch was kind enough to provide me with a copy of the Cassandra dress. I thought this pattern would be an excellent base for a rendition of the inspiration dress, and indeed it was.
The original dress has an A-line shape with a higher neck and scoopneck plus long sleeves. This time of year, all I want to wear is long sleeves, and the higher neck balances the back keyhole I needed to add. The necklines are finished off with facings. I'm not typically a fan of facings on knit garments, but these are beautifully drafted and they do not flip out at all! Bonus!
I did add a waist seam that's not present on the original pattern. First I made a muslin in a cream stripe knit to puzzle out the flounce. Next I simply marked where I wanted the waist and transferred it to the pattern, adding seam allowance on either side.
Pattern hacking: back keyhole + sleeve flounce
Back keyhole
For the back keyhole, I used my French curve to draw a 4″ keyhole 1.25″ below the top of center back. I simply cut that out of my back, and I extended the facing so that it would finish the edge of the keyhole as well. The cotton spandex pulled a little when I was pressing, so the edge is a little squiffy on one side, but it's not the worst thing.
2 little shank buttons finish the top of the keyhole with 2 equally small buttonholes. I opted for these over the hook and eyes that the J.O.A. dress. For one, CB was a little wide on me, and that little bit of overlap helped me out. I think the buttons add a nice little decorative touch too.
Sleeve flounce
The sleeve flounce was super easy to add on. It's like a little mini circle skirt with a funny edge. A tutorial is forthcoming.
Fakeout lace
Speaking of this cotton spandex, it is a print of a lace in the absolute prettiest blue on white. I bought it when an Etsy shop was going out of business, and it's been hanging out in my stash for a couple years. It's no secret I love lace, but to get a print that looks like lace but is actually an ultra soft and comfortable jersey is even better. While I might feel a little overdressed going to get coffee in a true lace dress, this one is perfect for everyday. When the weather gets warmer, I will no doubt be pulling out my peach Converse or sandals for this one!
Faux fur motorcycle vest
I'll save this jacket for its own post, but I'll offer a quick summary here. This time of year our weather is still extremely variable. The last 3 days alone the temps have been from 0° with buckets of snow to 66° with nasty blow you over kind of wind–literally. My camera bag blew off a bench on attempt 1 in shooting the cocktail dress! As such, layering pieces are really really smart.
I still wanted to be able to show off the sleeve flounces, so I opted for a vest. While organizing my stash I came across this wacky faux fur and instantly knew that I wanted to sew the vest in that. A little rib knit from a sweater for the collar, bindings, and hem and about 2.5 hours later, I had a full vest. It is surprisingly warm and the absolute perfect weight for this time of year. I might be wearing this with everything.
Like my cocktail dress too.
Cocktail dress: playing with lace
In thinking about what kind of cocktail dress I wanted to make, my mind instantly went to Nanette Lepore's Varsity Lace Dress.
I saw this almost a year ago and have wanted to make my own version since then. The combination of the aqua lace in sleeveless shirt dress style with the sweetheart slip dress in vivid orange beneath is such a fresh look. And the pleated skirt, with the bias trimmed edges hanging exposed for contrast is too cool of a detail. While it's not a traditional cocktail dress, the definition of cocktail dress has shifted considerably over time. Can this dress take you to a nice dinner out or a semi-formal occasion? I think absolutely. So here's how I broke it down:
Fabric: seafoam daffodil lace and coral interlock
At first glance, using coral underneath the seafoam seems like quite a bonkers choice, but this to me is one of my absolute favorite things about the nature of lace. It can completely change character depending on what fabric you put behind it. With a fabric the same color, it's a subtle tone-on-tone effect. Add white behind it, and you see the outline of the pattern more clearly, yet softly. But against the vivid pop of the coral, the lace suddenly jumps out in bold contrast.
It looks like the inspiration dress uses some kind of woven fabric for the slip dress. I chose the coral interlock because I wanted a softer look and feel. The interlock is no doubt more comfortable to well and it matches this drapey nylon lace well. I pretty much want to buy this interlock in every color now. It was so easy to work with and it didn't warp or run like poly interlocks sometimes can. This would be an awesome lining for just about any dress.
Lace bodice: Designer Stitch Kristen Dress
For the bodice of the lace dress I used Designer Stitch's Kristen Dress. I was really impressed when I made my rayon version how well the sleeveless bodice fit me. 99.999% of sleeveless bodice patterns out there have armholes that dip down too low for me on the side. This pattern has been the closest right out of the gate for me. Without the sleeve, there's about 3/8″ I'd rather cover up.
The simple fix I used was to cut the pattern as is and use bias tape cut from a soft poly satin from JoAnn to bind the edges right at the raw edge. Since the bias sits flush at the edge, there's no seam allowance taken up. This gives me an extra 3/8″ of coverage all the way around the sleeve which was perfect for me and my short upper torso and arms. Bonus–the tiny extra width at the shoulder shows off the lace and the slip a little nicer too.
Fork pleated skirt
The skirt is a giant rectangle of lace 75″X25″. First, I trimmed the top with bias tape. Trimming it first was a really smart idea as it gave the lace a lot more stability under the machine during the pleating process. The original dress has accordion pleats. This particular lace being nylon will not hold a proper press, so accordion pleats were out of the question. I opted for simpler but no less effective fork pleats.
I've used this technique before to make trim for this tunic , and I walk you through the whole process in my video for my dresses. The weight of the trim was too much for the pleats to sit nice and orderly on their own. I enclosed the seam behind the pleated trim and hand stitched the pleats down from the backside so that the trim sits straight.
Slip dress
The slip dress uses the bodice from Burda 5-2007-124.
The 4 paneled front makes for an excellent fit, and it is surprisingly not to low either in front or on the side. On its own, this would be the quintessential summer dress. I used a very firm beige poly spandex as the lining for the bodice. There's a slip in my closet made from the same fabric, and the support is provides makes it practically shapewear. Powermesh was another option to line it, but the spandex was a simpler, probably better choice in this instance.
I used the skirt portion the Cassandra dress for the skirt on the slip with the same narrowed width I used in my coffee dress. The combination of these two patterns will make a good TNT slip pattern for me.
Extra trim
The rows of bias tape at the hem are not on the inspiration dress, but I think they add a lot.
Painting the buttons aqua
To get the plackets, I subtracted from the Kristen bodice the width that I wanted and made two long button bands for either side. I was running out of time to finish my dress and get it photographed, so driving across town to find the right buttons at Colorado Fabrics probably wasn't going to happen.
Instead, I took basic wood buttons and painted them with acrylic paint. They're finished with 2 coats of varnish. I'm rather curious to see how they hold up. Cover buttons are always a nice choice in general for perfectly matching buttons, but on lightweight fabrics, they don't always work too well. Painted buttons definitely open up more possibilities. Oh, I painted my shoes too. They used to be black.
The Day and Night Dress Challenge 2018: Coffee & Cocktails w/ On the Cutting Floor
Welcome Daniela of On the Cutting Floor and designer at DG Patterns. Daniela's colorblocked dress was one of my favorite dresses from last year's Day and Night Dress Challenge, so I have been looking forward to seeing what she would make for this year!
Hello everyone,
I am thrilled to present my participation on The Day and Night Dress Challenge 2018! Elizabeth, from Elizabeth Made This has invited me this year to participate in this challenge and I am glad I did! It is super fun and I love to see all the work involved in everybody's dresses.
This time, the challenge was based on two dress themes: Coffee and Cocktails
COFFEE DRESS:

For the coffee dress, I chose to use the Susan Dress pattern. I love the sporty style of this knit dress and how the clashing red and blue colors add an 80's vibe to it.
I thought this dress will be ideal for the coffee dress challenge because it is comfy, easy to wear and with a casual look.

THE COCKTAIL DRESS:

For this version of the cocktail dress I chose to wear the Reno Dress pattern, just launch last weekend.
This dress features an easy wrap style with a tulip hemline to add a unique touch to this classic design.
The Day and Night Dress Challenge 2018: Mahlicadesigns
Welcome Melissa from Mahlicadesigns! Melissa is a fellow Coloradoan with a great eye for detail and a lovely sense of humor. Let's see how she interpreted the coffee and cocktails theme!
Thank you Elizabeth for having me today for the Day and Night Dress Challenge; Coffee and Cocktails edition. I'm Melissa of mahlicadesigns.
Deciding on my Coffee Date dress was easy. I've been wanting to make another Shoreline Dress after loving the first one I made last summer. The dress is just so right for me in many ways. It's easy to sew, easy to wear, and has a great shape without being too fussy.
The Pattern: Shoreline Boatneck Dress from Blank Slate Patterns in size medium. Instead of shortening the dress for my height, I actually used the longest tunic length to take advantage of the narrower sweep at the hemline and then lengthened the tunic by about 1.5in at the waist.
The Fabric: Seaglass striped rayon/lycra from Boho Fabrics (now sold out). Perhaps I'm not very original, but I loved the striped version I made last year, so I'm sticking with stripes again. I chose the rayon to see how the drape would look compared to my cotton/lycra version.
I'm totally pleased with my Coffee Date dress. Now, who's up for a meetup to chit-chat about sewing?
___
Deciding on my cocktail dress was a struggle. I worried that my choice wouldn't be worthy of the fancy description I imagine when I think cocktail party and yet still work for my unfancy life.
After hemming and hawing, I finally just moved forward with making M7628, a pattern I'd been wanting to try for some time. I choose a Jade ponte from Stylish Fabrics to make it up. The Jade looked so rich and luxurious, that I just had to have it for my cocktail dress.
I was drawn to the pattern by the short raglan sleeves, the set in waistline, and the deep V in the back. After completing the dress though, I feel like I have a mullet dress. Fun party dress in the back and a vintagey office look in the front.
The Pattern: McCalls 7628 in size 12. I had to take in the bodice at the side seams significantly to get rid of the boxiness and help with the gaping underarm. In the end, I believe I have a size 8 bodice grading out to size 12 at the hips. I also needed to pinch out some extra fabric at the back sleeve seam to remove some gaping at the back.
The Fabric: Jade ponte from Stylish Fabrics*. The fabric is wonderful and I love sewing with ponte. Ponte is easy to sew with, is stable enough to work for a lot of projects, and has enough stretch to make those projects comfy to wear.
Overall, I just don't know what to think of my cocktail dress. I love the back, but I have no idea how to make the front more party worthy.
Have you ever made a mullet project? What did you do to even out the split personality?
The Day and Night Dress Challenge 2018: Sewing ala Carte
Welcome Sonja from Sewing ala Carte! Sonja hails from The Netherlands, and if all Dutch sewists are half as stylish as she is, it must a lovely place to live! Enjoy her dresses!
Just like last year I used one pattern for both my Day&Night dresses. I gave a sneak peak of both designs on Instagram but also my fabrics choices for both dresses in this Day&Night Dress Challenge 2018 fabric choice blogpost. Both dresses are made of a self drafted T-shirt pattern that was altered into a dress pattern. Lots of designers have clothes with and asymmetrical look. This look is one of the 2018 style features. I decided to incorporate this feature in both my dresses. Time to reveal both my dresses.
coffee date dress Day&Night Dress challenge 2018
The coffee date dress is made of wide interwoven stretchy (2% spandex) stripped fabric. This fabric has striking dark blue stripes alternated by stripes made of off white, mixed off white/dark blue and off white/black.
I sewed the dark blue stripe on the horizontal part of my pattern pieces to get a kind of sporty effect. The pattern of the stripes runs from to front of the shoulder and also the stripes are running through on the body but also on the sleeve as well.
The hems are hand sewn what looks less casual when I sews the hem on my coverstitch machine. I love wearing this coffee date dress with ankle boots.
My black ankle boots with a small dark blue band across my ankle are a great match as are my black suede ankle boots with the zebra heel are working too.
My finishing touches are the leather blue crossbody bag and scarf with a paisley design.
cocktail dress Day&Night Dress challenge 2018
In former days a cocktail dress was always black. Nowadays more colours and designs are possible.
The hemline of the cocktail dress finish on the knee or just above the knee and the style is informal but chique. I decided to make my version just above the knee to create a simple, chic silhouette.
My fabric choice had to be in line with this simple, chic silhouette. This cocktail dress is also made of a stretchy fabric (5% spandex). This fabric has an inwoven graphic design made of dark blue and black and can be used on both sides. My T-shirt dress pattern was redrafted again and the panel was transformed into a curved line.
I used the black side for the panel and the dark blue side for the other parts of the dress. One can't easily see the inserted panel but the effect is beautiful and subtile. I wear my cocktail dress with blue tights and stylish suede blue high heeled shoes with crossed black bands. A perfect combination for a cocktail party.
Time and Costs
TIME:
making a dress pattern from the T-shirt pattern 30 minutes
Coffee date dress: pattern alterations 30 minutes; cutting 45 minutes; basting, sewing and hand sewing 9 hours
Cocktail dress: pattern alterations 45 minutes; cutting 60 minutes; rijgen, basting, sewing and hand sewing 12 hours

COSTS:
Coffee date dress: fabric € 29,90; yarn €3,50; interfacing €0,50
Cocktail dress: fabric €17,90; €3,50; interfacing €0,50
The Day and Night Dress Challenge 2018: Rikki Sews
Welcome the delightful Canadian seamstress Rikki from Rikki Sews. Rikki is such a joy and I love seeing her work pop up on Sew Much Talent and Patternreview! Let's see what dresses she's made for The Day and Night Dress Challenge.
"For God so loved the world that he gave his only begotten Son, that whosoever believes in Him, should not perish but have everlasting life. For God did not send his Son into the world to condemn the world, but to save the world through Him."
-John 3:16-17
Greetings sewing friends!:) I'm Rikki from the blog Rikki Sews. Several weeks ago, the lovely Elizabeth asked if I wanted to participate as a guest blogger for her "Day and Night Dress Challenge". It was an honour to be asked, and its been fun to take part. I hope you enjoy my makes and I'm looking forward to seeing what the rest of the sewing Bloggers/Vloggers come up with! I'd also love to see what you have made if you're taking part!:)
If you know me, I pretty much always sew with knits. I chose a knit for my cocktail dress, but I decided to change it up and make something different for my Coffee dress.
As you can probably tell, I had the added challenge of making dresses that were "baby-friendly". I'm almost into my third trimester (yikes, where has the time gone??) so there was a lot of pattern-hacking involved:)
The photo to the left is from the first interview with Johanna Lu on "That Sewing Blab" (March 2017). I noticed the V-neck plaid dress behind Alethia, took a screenshot, and its been on my iPad since, lol. I've always wanted to make a shirt-dress, and this seemed like an easier one to start with. From what I could tell, it didn't have any buttons and the waist was cinched in with a drawstring or elastic. I didn't add sleeves to mine to make it even simpler.
A fellow sewing Blogger (thanks Vanessa!:) was kind enough to send me several maternity sewing patterns so I used both these two (M6068, NL6120 to create the look I had in mind. I also made a simple faux leather belt from a DIY I found on Pinterest (mine is a bit wider and I didn't make a bow). This plaid shirting is from my stash (I still have the receipt from November 2008!).
I wasn't sure if this was going to turn out, but I made it work!:) I had to do some last minute tweaking (making the kimono/cap sleeve narrower after I had hemmed them, and taking the sides in slightly). My husband is really into plaid these days, and I think that was part of why I chose this particular print. I'd love to make this pattern again, next time in a fabric with more drape, maybe a rayon twill (guess who'll be visiting Fabricville again soon?;). Lol!
That's all for Coffee, now onto the (non-alcoholic;) Cocktails!:)
My sewing-themed mug, my thoughtful husband had made for me:)
I knew pretty much right away that I wanted to make up a body-hugging Vogue 1314 in this beautiful floral polyester/spandex. I had made a maternity hack with this pattern during my first pregnancy so I used that. Glad I hung on to it!:) I had to do a little adjusting, but it was a fairly fast project. I accidentally cut off too much length and had to add a fabric band at the bottom, but I don't think its too noticeable.
Vogue 1314, is definitely my most used pattern to date. This is version #8! I had to chuckle at myself when my husband Dan was taking my photos. I automatically hold my tummy taught, lol, wouldn't make much difference this time!
My mom and dad are planning to come up this weekend so maybe I'll get to wear this out for a nice dinner with Dan (here's hoping!:)
Thank you for stopping by & thank you again Elizabeth for inviting me to join in alongside so many talented and fabulous sewists! I have to admit I was a little intimidated at first, lol. The sewing community is just fantastic though & so encouraging! Love you all!:)
Have a wonderful weekend everyone, and happy sewing!:)
The Day and Night Dress Challenge 2018: Made By Laquana
I've so enjoyed getting to know my fellow Sew Much Talent admin Laquana. This lady can SEW, and she has a lovely sense of humor. I'm so thrilled to have her here on Elizabeth Made This sharing her dresses for The Day and Night Dress Challenge.
Hi! I'm Laquana and I blog over at www.MadebyLaquana.blogspot.com. I'm very excited to be a part of this year's Day and night challenge! I'd like to thank Elizabeth for giving me the opportunity to share my dresses, it's truly an honor to be a part of this talented and diverse group of bloggers/vloggers. When Elizabeth asked me to be a part of the challenge, I didn't hesitate, I'm a dress person so, my go to garment is a dress.
I believe dresses are the complete package, no thinking, you throw it on and you are set! Well, there's a little more to it, but you basically throw on a dress and a pair of shoes and you're off. If my dress is secret pajamas, it gets extra points and more wear. For my dresses, I picked a wrap dress and a sheath dress, both are great silhouettes and can be modified to give you tons of different looks.
If I had to define my style, it would be classic functional elegance with a touch of drama. I love well-fitting clothes that are comfortable, stylish and comfortable (did I say that already?). I'm learning to look beyond the pattern envelope and truly make every garment my own. So, when deciding on a dress, it was hard, I love all the dresses! With the help of my sewing friends, I decided to stay with the classics and add a little something, something different to each of them.
Day Dress
It should be no surprise I chose a wrap dress for my day dress. This iconic dress style is a go to for me and I have three in my closet to prove it, It's a great shape for me and the reason I chose it. This dress is also secret pajamas! Who doesn't want to walk around comfy and stylish?
I used Vogue 8896, a gathered wrap dress for my first look, the gathers make for easy adjustments for fuller busts and a nice shoulder detail. For my day dress I wanted something different but struggled with how to do that with a wrap dress. I also wanted to also see how I'd like a fuller skirt on my wrap dress, all my other wrap dresses have a slimmer skirt. I had some French Terry knit in two colors, navy blue and blush pink, a great combo for color blocking.
The only changes I made was cutting the left and right front bodice and skirt pieces individually on a single layer of fabric. I marked the left and front so that I wouldn't get confused. I'm really pleased with the outcome; the French Terry is soft, the fit of the dress is great which makes for a super comfortable and stylish dress, can I get a high five for secret pajamas?!
To style this dress, I threw on metallic slip on sneakers, wood circle earrings, a small clutch and pink necklace. This dress would look great with a denim jacket, flip flops, tote bag and large sunnies too!
Night Dress
I took another basic sheath dress pattern, New Look 6411 and made some modifications to get the cocktail dress I wanted. I like the raglan sleeve and though it would be fun to make that look into a cocktail dress. Normally when I think of raglan sleeves, I think of a more casual garment but the fabric and sleeve really gave this the right amount of class.
Let's talk about the fabric, I chose a floral print silk/ poly jacquard. This is my first time working with a silk jacquard, it has a slight crinkle effect to it and a nice sheen. The neckline facing, back opening, sleeve hems and hem were all hand sewn, this is new for me, I'm team no hand sewing.
For the modifications, I add a little more design ease to the pattern and self-drafted the sleeve ruffle. I measured the sleeve opening and cut a rectangle 2.5 times that measurement and cut it 6.5 inches wide. The ruffle is gathered and attached them to the sleeves by sewing thing right sides together.
I really like how rich this dress looks, and I wanted the fabric to be the highlight so I kept the pattern simple. I'm very pleased with the overall look and I'm glad I took the time to hand sew all the hems and finishes. I like classic pieces so these dresses work for me, I've already reached for them when I've needed something to wear and that feels awesome!
I styled my night dress with fringe earrings, a deep red lipstick, cute heels and an oversized bag. You can wear a cropped cardigan in your favorite color, silver jewelry, yellow, purple, or green costume jewelry, the back drop of this dress lends itself to lots of different looks.
As I worked on each of these patterns, I noted things I'd like to modify again and things I'd like to change for future dresses. That's the beauty of sewing your own clothes, they will be what you want, when you want them, in the color you want and they will fit you. I'm so happy to share my dresses and I hope you see how easy it is to modify a simple pattern to get the look you want. In terms of design, the sky is the limit.
More dresses on the next page…
Elizabeth Farr is the writer behind the Elizabeth Made This blog where she shares helpful sewing tips, step by step sewing tutorials and videos to help you explore your creativity through sewing.  She has written sewing Eguides and patterns, been a featured teacher at Rebecca Page's Sewing Summit and Jennifer Maker's Holiday Maker Fest and her work has appeared in Seamwork and Altered Couture magazines.  She also created a line of refashioned garments for SEWN Denver.  When her sewing machine isn't humming, she's playing and teaching violin, and hanging around a good strategic board game with her husband and 4 kids.