The Day and Night Dress Challenge is coming!  To get you ready to flex your own creative muscles for the challenge, I'm going to be posting some inspiration posts.  Up today is some day look fashion inspiration from RTW.
I don't know about anyone else, but when I'm in the planning stages of a garment, I often peruse RTW online for ideas.  These days, retailers make it so easy for us.  Who's guilty of using the zoom features to focus in on a detail that's eventually made it into one of your makes? *raises hand and waves it emphatically*
I went ahead and made a Pinterest board just for this!  Check out my Day dress fashion inspiration board
When it comes to day dresses, I think there's a couple of categories you can think of:
Color and print!
Function
Fun
I suppose you could throw "office appropriate" in that list, but that's not a terribly fun category to consider.  For my purposes, let's imagine a unicorn-filled place where you can where loud bright colors whenever you want. I always tell my kids that there's nonsense in every story, so let's daydream a bit here.
Day look fashion inspiration
Color and print
Think bold, visual texture!
In The Mix Sweater Dress from ModCloth.
From the undisputed queen of the day dress, Diane von Furstenburg: New Jeanne Two Silk Jersey Wrap dress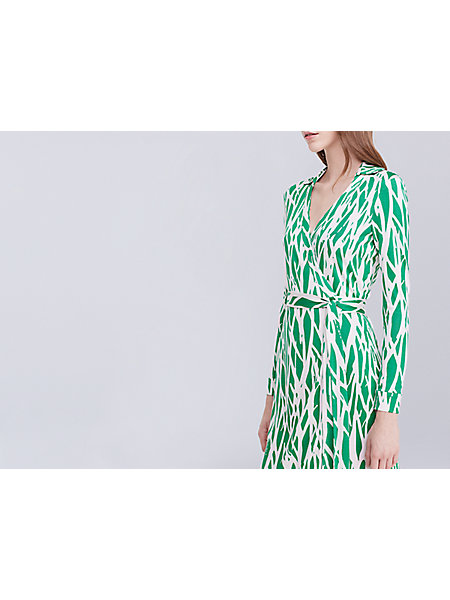 Alexander McQueen Jacquard knit mini dress: Wow.
Function
Dresses that fall in this category should have lots of pockets, be easy to accessorize, and probably have a nice freedom of movement. You know, practical.
Madewell Denim Jumper Dress:  pockets for keys!
Boden Hannah seam detail dress: pockets + boots + tights + scarf= winter happy!
You thought practical meant boring, right?  Nay! Nay, I say.  Shirtdresses are practical yet there's plenty of ways to upscale them.  This Alice + Olivia crepe dress added velvet trim and a bow to add some interest.
Fun
Embrace the nonsense here.
No doubt you gadding about in Prada and velvet during the day means you probably have no kids and are likely a princess of sorts.  Still, that applique work is firmly entrenched in the camp of fun.
As a girl who grew up with a Great-Grandma who wore wigs because she liked to, I immediately loved this Mod Cloth dress.
I'm Wiggin' Out A-line dress
Another DVF: I want to know what jungle this tiger came from.
How about you?  What fashion is inspiring you for your day look?
Sew some dresses!
Let other people know about it.  Use #dayandnightdresschallenge on Twitter and Instagram and follow the Day and Night Dress Challenge Facebook group.
Check out the Pinterest boards connected to the challenge: Day Dress Fashion Inspiration and Night Dress Fashion Inspiration
Enter your project here to win great prizes from the challenge sponsors.
Grab a graphic and post it on your site: