A few years ago my uncle bought land for an apple orchard in IA.  Since then, it has become a bit of a project for my extended family.  My aunts, uncles, Grandpa, and cousins have often been out there planting trees, clearing the land, keeping the bees and having lots of cookouts.
They've also been collecting apple related paraphernalia.  A friend of one of my aunts had offered at one point to sew aprons for my aunts.  I'm not sure whether or not she has gotten to it or not, but I figured that it would be a simple and easy Christmas gift for me to find some apple fabric and make up some aprons for my aunts.
There are a lot of apple fabrics out there, but I'm rather picky about the weight of fabric in an apron.  Despite having several aprons made from very festive quilting fabric, when I'm working in the kitchen, I don't reach for those aprons.  The quilting cotton is just too lightweight for heavy cooking and it has such sad drape to it.  Sadly, there aren't as many apple themed twills or other heavier weight cottons out there.  Kokka has some good options, but I opted against them because of the price.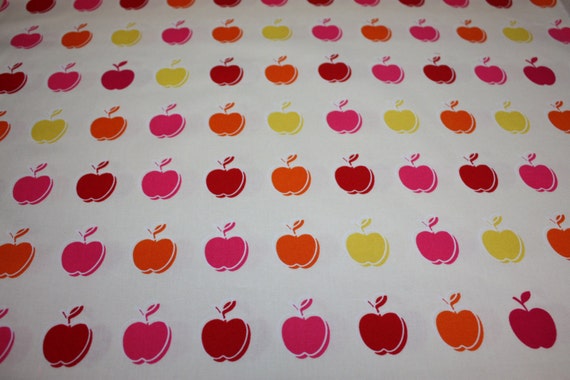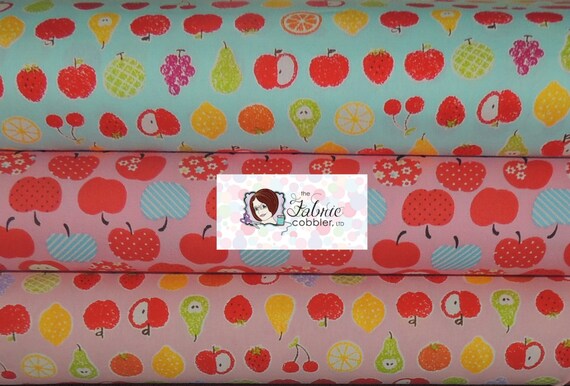 I came across this twill that someone on Etsy was destashing really inexpensively.  I made my own bias tape from a sheet.  I had a little of this green ikat dot fabric leftover from a home dec project–just enough to piece a pocket.
The patterns are from A is for Apron.  I really like the designs in this book.  Some of the directions seem unnecessary or left me scratching my head, but the designs are an excellent collection of vintage-style aprons without the hefty price of individual vintage patterns.  The only iffy thing about this book is that you have to resize the patterns from 1/4 size pattern sheets at the back of the book and print them out.  I did that without too much trouble with my scanner.  I scanned the image, resized it in Gimp 2, converted the image to a PDF and printed it out from there.  It took a little tweaking to get it the right size.  Yay for the programmer husband for helping me figure it out.
I hope my aunts enjoy these, and if I find some good apple fabric in the future, I might have to reach for this book also.  My book review is here.

Let's keep the conversation going!  Check out my sewing dreams and inspiration on Pinterest, and keep up to date on my projects on Instagram and Facebook.
[maxbutton id="1″]